Formal groups & organisations
Citizens Advice Bureau - Cambridge
At a glance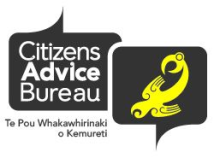 Name

Citizens Advice Bureau - Cambridge

Category

Formal groups & organisations

Address

62 Alpha Street
Cambridge
Cambridge 3434

Postal Address

PO Box 198
Cambridge 3450

DHB

Waikato

Phone

Email

Web

Facebook
Other services

At the Cambridge CAB we try to help people to know and understand their rights and obligations and how to use this information to get the best outcomes, provide people with the confidence and support they need to take action, and work for positive social change within communities and wider society. We provide a free and independent service to all.
Service Description
Service Description
Bureau Interviewers are available to help you with any enquiry you may have. We have access to many forms of information and if we do not know the answer immediately, we shall find out for you.

We have a team of friendly volunteers who are available with information or assist clients with their problems. They are here to help with any enquiry from a simple telephone number to those which are much more complex.
Updated: 23 Mar 2022
Description
Description
Additional services we offer:

Justice of the Peace services are available Monday and Friday 12-2pm. Walk in, no appointments.

Free legal advice is available each Wednesday morning, by appointment.
Updated: 23 Mar 2022
Suburbs/Districts/Towns Serviced
Suburbs/Districts/Towns Serviced
Cambridge , wider Waikato district and answer nationwide calls via the 0800 number.
Updated: 23 Mar 2022
Payment
Payment
Payment
Status
Details
Free
Yes
Updated: 23 Mar 2022
16771