Downsizing & moving home
At a glance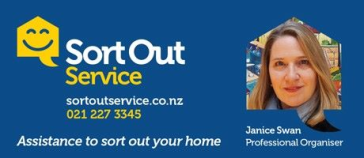 Name

Sort Out Service

Category

Downsizing & moving home

Address

Wellington Area

Postal Address

Same as above

DHBS

Capital & Coast, MidCentral, Hutt Valley

Phone

Mobile

Email

Web

Facebook
Personnel
Owner & Professional Organiser

Janice Swan - 0212273345
We are friendly and professional home organisers who provide decluttering, downsizing and estate clearance services in the greater Wellington area. We're here to help people who don't have the time, strength or support to get these projects done. These jobs can be hard to start so we offer a non-judgemental, personalised service to help you get them underway and completed. That frees you up to get onto whatever you have to do next.
Testimonials
Testimonials
Visit our website: "What Clients Say" for more testimonials
"I employed the services of Sort Out Service to help me through the daunting task of moving house after eleven years in residence. Although I had planned the move for over six months and had started de-cluttering some areas, the final push was very overwhelming and I had been procrastinating for almost two months. Janice came to my rescue like a guardian angel. Her common sense approach was the godsend I needed as we worked alongside each other for a solid two days, boxing up excess, cleaning top to bottom and staging my house for sale. There was no judgment of the mess I had got myself into, and total respect for all my possessions as we discussed what were treasures (to me) and identified what was rubbish. Throughout the process, Janice managed to combine her gentle sense of humour with a determination to keep me focused on the task. Totally recommend Janice and SOS, the best thing I could have done." Diane, Decluttering and Downsizing in preparation for house sale and moving

"Hi Janice, thank you soooo much for all your help. You were great to work with, really organised and very caring. You never made me feel bad about anything, but completely relieved my mind and got the job done. Kindest regards." Jackie, Declutter and Downsize ready for house sale

"It was great working with Janice, who helped me stage my large home prior to going to market. Having someone to bounce ideas off who is practical and innovative, worked well and we dressed the house using mainly my own possessions along with a few items I purchased and could use in my next property. It was more fun and much quicker working with Janice. I can highly recommend Janice to anyone needing assistance to get their house ready to sell." Robyn, Prepare house for sale

"I described Sort Out Service as "midwifery for moving" because of the skill doing varied care during a process of deep importance to the client, but I'm not sure if it's our beloved old home or our family that is being born." Susan, Downsize, Find homes for donations in preparation for house sale

"Thank you for your help and kindness." Marcella, Downsize in preparation for house sale and retirement living

"Thank you with your support for the house clearance…brilliant!!" Gillian, Declutter, Living estate clearance

"Janice, thanks so much we really appreciate all the hard work you guys have put in. It has certainly helped us tremendously through this process. It is an absolutely wonderful service you offer and we won't forget the help you have been. Thank you again." Dan, Estate clearance, Find homes for donations and Clean

"Hi Janice…We are enjoying the extra space upstairs. Thank you also for letting me know where the donations have gone: it's great to know that the items will be put to good use. I very much appreciate all the work you've done to start us on the road to downsizing: it has made a real difference having the help of an experienced professional who is not emotionally involved with the home and contents.
Post the property sale: Thank you very much for your help with decluttering and organising the other services which were crucial in getting my house ready for sale." Wendy, Decluttering and Downsizing in preparation for house sale and moving

"Hi Janice, Thanks so much for the great work you did in making our parent's property more like the home we remembered it to be.
It was a huge job and I certainly couldn't have done it physically and emotionally without your support. We have certainly sung your praises to all our friends who have followed the progress. I would have cried if I couldn't laugh about it. A couple of groups we belong to may contact you to give a talk. Thanks so much." Carol, Decluttering, Find homes for donations and Clean in preparation for property sale

"Janice, a huge thank you for all you did yesterday.  It's miraculous AND the amount of stuff, some if it very heavy, you shifted all by yourself is also miraculous. You are a true gem & so lucky our daughter found you.  Will C U again soon ❤."
"The realtor was impressed with the amazing changes & amount of work that had been done & I happily told him who'd dunnit with the trusty help of Jude.  Awesome forces had been at work here all done by a gorgeous swan" Marea, Downsizing, Donations to charity, cleaning
Updated: 24 May 2021
Service Description
Service Description
We are here to help as little or as much as you need, to get the job done.
Call us to discuss your project or book a FREE half hour consultation: 04 213 7345 or 021 227 334.

OUR SERVICES:
DECLUTTER - Make your space the way you want it
Whether you are looking for a little help or a complete transformation, we offer a tailored approach to your decluttering needs: • Assist with your decision making • Source boxes, pack and label • Source off-site storage if required • Organise removal services • Arrange sale, donation and disposal of goods • Reorganise the space • Rubbish removal.

DOWNSIZE - Get ready for your new home
Ways we can help make downsizing easy for you: • Help prioritise tasks, develop a comprehensive plan including timeline and checklist • Create a floor plan • Sensitively assist with sorting your belongings, identifying what to keep, what to donate, what to give to family and friends • Source boxes, pack and label • Organise off-site storage if required • Help in obtaining quotes from removal services • Arrange and coordinate packing and moving • Arrange sale, donation and disposal of goods • Rubbish removal • Place furniture, unpack and organise belongings in your new home • Dispose of all boxes and packing materials • Domestic pet transportation if required.

ESTATE CLEARANCE - Extra help when it's needed the most
Our range of clearance services include: • Sorting of goods and possessions to go to family or elsewhere • Transportation of unwanted items for donation or disposal • Organising rubbish removal • Arranging necessary repairs if required • Arranging professional cleaning if required.

Read more information on our website: https://sortoutservice.co.nz/
Updated: 26 Aug 2019
Suburbs/Districts/Towns Serviced
Suburbs/Districts/Towns Serviced
Wellington, Lower Hutt, Upper Hutt, Kapiti, Waikanae. Wellington area and travel as far as Otaki and the Rimutakas.
Updated: 26 Aug 2019
Languages Spoken
Languages Spoken
Language
Status
Details
English
Yes
Updated: 26 Aug 2019
14756