Downsizing & moving home
Estate Property Solutions
At a glance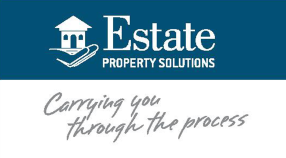 Name

Estate Property Solutions

Category

Downsizing & moving home

Address

Dunedin

Postal Address

PO Box 7025
Mornington
Dunedin 9040

DHB

Southern (Otago)

Phone

Email

Web
Personnel
Project Manager

Graham Burgess - 0800 001 126

Project Manager

Glenda Burgess - 0800 001 126
We know that transitioning to a home, selling your house, downsizing or relocating can at times seem overwhelming. That's why Estate Property Solutions are here to help. We help the elderly, disabled people, and their families make those major life transitions.

We will assist you with all the details of an estate, so that you don't have to. No matter how big or small, we can carry you through the process.

We work with a wide variety of people who simply don't have the resources to complete the work required to manage an estate.

We can coordinate with service providers, visitors to the property, tradespeople, movers and more to ensure your relocation or downsizing goes as smoothly as possible. We can advise on what to pack, what you could sell, and what to donate (if you'd like to). We can complete all the heavy lifting and transportation, while you can oversee the whole project.

We pride ourselves on our honest, compassionate and confidential communication, don't just take it from us, but see the reviews on our website from other customers. Proudly Dunedin owned and operated, we work through the area with executors, seniors, disabled, or homeowners.

If you or your family are looking to downsize or relocate and need a hand, get in touch, we welcome your call and are happy to help guide you through the process.
Testimonials
Testimonials
Lana Lloyd - Gallaway Cook Allan Lawyers

As a law firm which handles estate administration, we occasionally have the need to contract companies to provide a range of services. The advantage of Estate Property Solutions is that no task is to large or too small and their scope of work covers such a large range of duties that realistically they can handle most requirements – and if not, they can contract the appropriate organisation to attend to the task required and oversee that work. It frees us up to continue with the legal work. We have used the services of Graham and his team on a few occasions and the service is exceptional – fulfilling the brief to top standards and on one occasion really going the extra mile to try to assist us in providing avenues to contact the appropriate persons in Auckland! We have also referred clients directly to Estate Property Solutions and they have worked directly with the clients to assist them with photographing household items and arranging shipping to other cities, at the appropriate times. On a personal level, I have found Graham to be an extremely helpful person, his willingness to assist is exemplary and any work completed by Graham and his team has been completed to a very high standard. I would have no hesitation in recommending Estate Property Solutions to clients or friends.

Carole

Finding Graham and Estate Property Solutions made a big difference for our family. A task that had seemed quite overwhelming became a lot more manageable. They had the knowledge, experience and expertise to help assess what needed to be done and suggest what method might be the best way to achieve that. They helped construct a timetable and strategy and were practical and hands on in making it happen both through their own work and their network of contacts. They solved the big problems and the some of the little ones that had us stumped. Also, they made things happen in caring and conscientious way which makes a big difference.
I would highly recommend Estate Property Solutions to any family working through the process of a deceased estate in Dunedin.

Paolo Guglietta - Gillions Funeral Services

Our company engaged the services of Estate Property Solutions on behalf of one of our client families to clear out and prepare a deceased estate for sale. Graham and Neville arranged everything from rubbish removal, from within and around the property to restoring the inside to a presentable condition. The communication from Estate Property Solutions was professional, sensitive and kept the family well informed regarding the level of involvement required along with a realistic estimate for their services. I wouldn't hesitate to contact them in the future to assist us.

Irene Russell - Public Trust

We at Public Trust have dealt with Estate Property Solutions since they commenced their business and we are always impressed by their professionalism and commitment to doing a fantastic job. Our clients call us to let us know how delighted they have been with their services. There has never been a job that they couldn't do for us and they always manage to exceed our expectations of providing excellent customer service. I would and do recommend them to all of our clients.

Wayne Cockburn - Business Development Manager CCT

As you are aware CCT contracts to Estate Property Solutions with our Garden Crew Business to complement the Estate work your business undertakes in the Dunedin metropolitan area. We wish to thank you for the ongoing relationship we have built on in the last few years, your business is very professional in its way it deals with its clients, exhibiting a high level of integrity and respect for the customers you deal with, many of at a time in life when their time in their home has come to an end or when a family member is left to deal with winding up the estate. CCT wishes Estate Property Solutions the continued success and look forward to building on what one can describe as a partnership to complement your business. Thank you.
Updated: 18 Jul 2017
Service Description
Service Description
Let Estate Property Solutions take the stress out of packing up your estate for you. Our experienced and efficient team can sort it all for you. We have full liability insurance, are experienced at shipping goods nationally and internationally and arranging short and long term storage. We are also experienced in assisting people in decluttering, downsizing and relocating to retirement villages or rest homes.

Storage – short, long term, or indefinite
Identifying and categorising goods
Shipping overseas and internationally
Shipping pets
Selling items
Relocating or downsizing
Decluttering
Coordinating contents for packing, disposal and sale
Searching for mementos
Packing of sensitive or personal goods

Our sensitive and experienced team are thorough and dedicated. We can sort it all for you and take the hassle out.

Some of the other tasks we can help with are:

Cleaning and gardening of estate
Preparing for sale – such as furniture staging and managing access
Repair work maintenance and painting
Rubbish removal and clean up – even for extreme hoarding
Appropriate, safe and confidential disposal of goods
Selling and donation of goods – even vehicles and pets

We do all this and more, so that hopefully we can take some of the stress out of the situation and this enables you to have:

A single company managing a broad range of services
One single billing for the project
Professional partners who are reliable and efficient
Flexibility to customise our service to meet your needs
Timely completion of your project
Total control of costs
Updated: 18 Jul 2017
Suburbs/Districts/Towns Serviced
Suburbs/Districts/Towns Serviced
Otago
Updated: 18 Jul 2017
Languages Spoken
Languages Spoken
Language
Status
Details
English
Yes
Updated: 18 Jul 2017
13194