Shoal Bay Villa Dementia
At a glance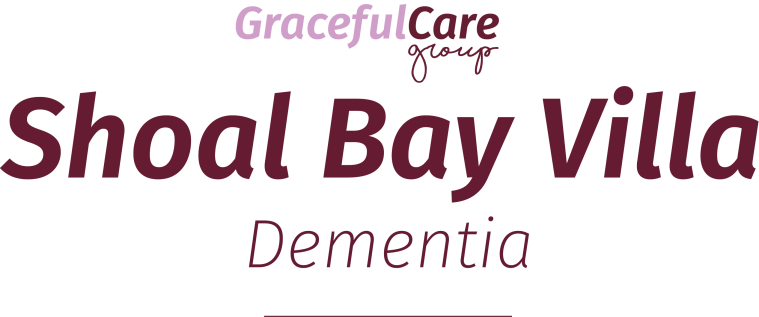 Vacancy

Yes

Name

Shoal Bay Villa Dementia

Category

Dementia

Address

33 Church Street
Northcote
Auckland 0627

Postal Address

33 Church Street
Northcote Point
Auckland 0627

Region

Waitemata

Phone

Email

Web

Facebook
Personnel
Manager

Ana Ruiz - 0220835007

Owner

Rose Cooper - 0211083854
Other services
Shoal Bay Villa is located on Auckland's sunny North Shore. We offer a totally obscure, secure home within a lovely garden setting.

Our 1920's villa provides many beautiful era characteristics including ornate fireplaces, grand ceilings, native timber flooring and stained glass features in some rooms. We have a variety of rooms - with or without ensuite - that all either open out onto a courtyard or garden.
We offer inviting and vibrant communal living spaces and more intimate, private areas available to those that enjoy quiet time.

Our skilled onsite chef's provide our nutritious meals, 7 days a week. Each season introduces new meals which are cooked in our kitchen and are on a six week rotation for variety.

Offering subsidised and privately funded care, respite, carer support and day stay options, we welcome you to come and take a look at our home.
Service/Facility Details
Service/Facility Details
Detail
Status
Contract with Te Whatu Ora
Yes
Certification
Yes
ORA Applies
No
Updated: 16 Mar 2023
Bed and Vacancy Details
Bed and Vacancy Details
Detail
Status
Approximate number of beds at this level of care
26
Vacancy
Yes
Impending vacancy
No
Short stay considered
No
Premium Accommodation Charges
Yes from $15.00/day up to $30.00/day as at 10 Nov 2023
MOH Certification and Audit Report
View MOH certification and audit report (opens in a new tab)
Extra admission requirements due to COVID-19
Please enquire
Updated: 4 Dec 2023
Personnel
Personnel
Type
Hours Per Week
Status
Details
Registered Nurse
Yes
Our Registered Nurses work on a roster and are onsite daily from 7am to 3pm. Outside of these times, they are on-call 24/7.
Healthcare Assistants/Caregivers
Yes
Our Healthcare Assistants are supervised by a Registered Nurse, receive on-going training and support and have competencies tested ensuring that care is delivered in a safe and timely manner.
Physiotherapist
Negotiable
Arranged as required.
Social Worker (on site)
Yes
Arranged as required.
Diversional Therapist
Yes
Our dynamic Diversional Therapist is responsible for the daily programme. After assessing each resident, a plan is created that meets their needs with the purpose of promoting quality of life and aim to reflect former routines and activities.
Activities Co-ordinator
Yes
Activities are planned for each day of the week.
Hairdresser
Yes
Visits as required.
Podiatrist
Yes
Visits every 6 weeks.
Dietitian
Yes
All our food is cooked onsite in our kitchen by our very own 'Gordon Blue' chef expert on a 6 weekly menu rotation. A dietitian is available on request.
Accredited Visitors
Yes
We have a variety of visitors at our home including entertainers, pets and supervised children. If you have any special visitors in mind, let us know - we welcome ideas.
Kaumatua
Negotiable
Available on request.
Chaplain/Spiritual Advisor
Yes
Each Tues morning Malia comes from St Marys and offers Catholic residents Communion and an Anglican service is offered fortnightly in our 'Garden Lounge'. We welcome any spiritual support visitors of your choice.
Other Personnel
Yes
Resident families are encouraged to bring along family or pets to meet our residents.
Updated: 16 Mar 2023
Specialities or Areas of Expertise
Specialities or Areas of Expertise
Specialities or Areas of Expertise
Status
Details
Wound Care
Yes
We have in-house policies and procedures around this. Our team are trained and receive regular education in this area.
Diabetic Care
Yes
Meals are customised to suit diabetics.
Continence Advice
Yes
Our Continence Advisor regularly visits and assesses our residents for their continence requirements. Staff have regular In Service education on this important subject
Infection Control
Yes
We work in conjunction with 'Bug Control' around our infection control policies and procedures. Staff receive regular in-service education around all matters relating to this.
Clinical Management
Yes
Onsite Monday to Friday.
Updated: 12 Apr 2018
Respite, Carer Support or other Short Stay
Respite, Carer Support or other Short Stay
Respite, Carer Support or other Short Stay
Status
Details
Respite
Yes
Other Short Stay Programme
Yes
Subsidised
Yes
Private Paying
Yes
Booking can be made in advance
Yes
Updated: 1 Aug 2019
Features
Features
Feature
Status
Details
May Bring Own Furniture
Yes
Cherished personal belongings are welcomed as they often help people with dementia recognise their own room. We provide all furniture, but if there is something special you'd like to bring, let us know.
Single Rooms
Yes
We have a variety of single rooms, all of which either open out onto a courtyard or garden and all rooms are sunny and bright and warm, especially during the winter months.
Rooms suitable for a couple
Yes
We have two beautiful couples' rooms, with private semi-ensuites. Both are bright, sunny and warm. Selective availability only.
Ensuite
Yes
Some rooms have ensuites, some have shared semi-ensuites (toilets between rooms). All rooms are close to showering facilities.
Alcohol Permitted
Yes
We endeavour to provide an environment as close to what our residents had before. We find that most enjoy a pre-dinner drink, alcoholic or otherwise, so will accommodate these needs as best we can on the advice of our resident and their family.
Pets In Residence
Yes
We have pets who visit us regularly as part of our pet therapy programme.
Resident can adjust heating in own room
Yes
Centrally heated, the warmth of our environment is maintained satisfactorily without the need for adjustment. However, some rooms heat pumps to ensure a regular temperature all year round.
Lounges/seating areas
Yes
Our 'Main lounge' is more vibrant and preferred by those who wish to mingle and participate in activities. The 'Garden lounge' is a more intimate space preferred by those who prefer quiet time.
Female residents only
Yes
Primary Health Funded Short Term Care
Yes
If there is a vacancy at the time.
Outings
Yes
Our residents go out on a touring bus fortnightly. We are invited to attend the local Church's monthly afternoon tea group. Our focus is to ensure connections still remain within the community.
Whānau Room
No
We do not have a special room set aside for Whanau/Family room, but if required this could be arranged.
Residents Committee
Yes
We have regular quarterly resident meetings.
Family Committee
No
Arranged as required.
Policy for management of challenging behaviour
Yes
We have policies and procedures in place for dealing with challenging behaviours. Give us a call to chat about these in detail.
Confused Residents
Yes
We have in-house strategies to manage this, often all that is needed is re-direction and gentle, quiet conversation.
Rural Setting
No
We are located on Aucklands' sunny North Shore at Northcote Point. Our residents can enjoy supervised walks to to beautiful Shoal Bay Beach where a picnic lunch can be enjoyed amongst the beautiful surroundings.
Semi-Secure
No
Shoal Bay Villa is a totally obscure, secured home set within a lovely garden.
Updated: 12 Apr 2018
Special Features
Special Features
We offer a intimate, homely 26 bed specialist Dementia Care "Villa" type facility. Our residents walk freely and safely in our recently redesigned gardens. All the staff at Shoal Bay provide the re-assurance and care our residents need to live with dignity, respect and in safety. We welcome you to visit our home at any time.
Updated: 16 Mar 2023
Interests & Activities
Interests & Activities
We are constantly in touch with the Alzheimers Society and other organisations always looking for new ways to improve our service to our residents and their families.


Activity programme, Advocate, Age Concern, Alzheimer's Society, Art, BBQ, Big print books, Bingo, Blind Foundation, Board games, Bowls, Breakfast in bed, Canine friends, Care and Craft, Chapel, Children, Church, Classical Music, CMA, Concerts, Craft, Dancing, Entertainers, Entertainment, Exercises, Games, Garden, Flower arranging, Golden Oldies, Housie, Indoor Games, Library, Music, Movies, Newspaper reading, Parkinson's Society, Parties, Picnic facilities, Reading, Quizzes, RSA, Senior Citizens, Sing-a-longs, Singing, Videos
Updated: 16 Mar 2023
Additional Information
Additional Information
Topic
Details
Staffing qualifications and details
Shoal Bay Villa offers an excellent team of compassionate, qualified and experienced people who are committed to on-going training in their given fields. There are always 2x Healthcare Assistants on at night, plus the daily allocation. Our Registered Nurse is on duty 5 days per week, and on-call 24/7. Our Diversional Therapist is on duty 5 days per week and the Chef and Cleaner are both on duty 7 days per week.
Details about meals
Each season introduces new meals which are cooked in our kitchen and are on a 6 week rotation. A Dietitian is available on request.
Updated: 16 Mar 2023
Languages Spoken
Languages Spoken
Language
Status
Details
English
Yes
Fijian
Yes
Fijian Indian
Yes
Filipino
Yes
Interpreter
Yes
Available as required.
Portugesse
Yes
Samoan
Yes
Spanish
Yes
Tongan
Yes
Updated: 5 Apr 2023
Religious/Spiritual Affiliations
Religious/Spiritual Affiliations
Religious/Spiritual Affiliations
Status
Details
Anglican
Yes
Baptist
Yes
Christian
Yes
Methodist
Yes
Presbyterian
Yes
Roman Catholic
Yes
Spiritualist/New Age
Yes
(Other comments)
Yes
We do our best to accommodate all religious affiliations as and when requested.
Updated: 16 Mar 2023
Distances
Distances
Location
Distance
Details
Public Transport
300.00 Km
Bus stops at the top of Church Street.
Shops
1.00 Km
Birkenhead Shopping Centre and Northcote Shopping Centre are close. Shoal Bay is located on North Shores' Northcote Point which makes it easy for families to commute from anywhere on the North Shore or from Aucklands, CBD.
Mall
1.00 Km
Birkenhead (1km) and Glenfield Malls (5km) are in close proximity and are easily accessible via bus.
Parks
0.25 Km
Beautiful Shoal Bay is an easy walk from our home. Residents are regularly taken to the bay for lunch or just a walk in the sunshine.
Library
1.00 Km
Both Birkenhead and Glenfield have public libraries, which can be visited as requested. We do have a large supply of large print books here and refresh our supply from the library regularly.
Updated: 16 Mar 2023
Credentials & Membership
Credentials & Membership
Credentials & Membership RC
Status
Details
Care Association New Zealand
Yes
National Certificate in Diversional Therapy
Yes
Our Diversional Therapist holds currently holds this National Certificate.
New Zealand Aged Care Association (NZACA)
No
Shoal Bay Villa are financial members of HealthCare Providers Limited.
Updated: 16 Mar 2023
The Ministry of Health conducts regular audits of Residential Care Facilities. They can be found HERE.