Community hubs
At a glance
Name

Senior Hangouts

Category

Community hubs

Postal Address

PO Box 40767
Upper Hutt 5140

DHBS

Hutt Valley, Northland, Waitemata, Auckland, Counties Manukau, Waikato, Bay of Plenty, Lakes, Tairawhiti, Taranaki, Whanganui, Hawke's Bay, Wairarapa, MidCentral, Capital & Coast, Hutt Valley, Nelson Marlborough, West Coast, Canterbury, South Canterbury, Southern (Otago), Southern (Southland)

Phone

Email

Web
Personnel
Manager

Otila Osborne - 0223090039

Owner

Heather Newell - 027 276 2730
Other services
Media
Downloads
You need Adobe Reader to view PDF files.
Preview
File
Description
SeniorNet December 2021 Newsletter

SeniorNet produce quarterly newsletters for our members. In our Gizmoe magazine, we share the activities across our various Learning Centres and celebrate member achievements and learnings.

To view past copies of our newsletters please visit our www.SeniorNet.NZ website and click on Resources.
Reviews
Given the current COVID-19 environment we have temporarily disabled our 'feedback' feature. We apologise for any inconvenience.
Heather Newell, Executive Officer SeniorNet New Zealand introduces SeniorNet and shares how SeniorNet's computer training courses helped 88-year-old Dr Beryl Barratt to cope with technology challenges.

Our SeniorNet branches and online training sessions with SeniorHangouts offer training on how to manage your cellphone or smart phones, operating your laptops and computers through to you learning about computer applications or APPs, as well as connecting with your loved ones, family and friends via social media Facebook, Messenger, Twitter and WhatsApp.

SeniorNet and SeniorHangouts training sessions also include guest speakers, and conversations on special interest topics including genealogy, travel, quizzes and plus online banking sessions with Westpac and how to manage technology with Chorus plus much more.

We are proudly supported by AMI who offer free membership to SeniorNet until September 2022 to those who join AMI. Google also offers free membership to SeniorHangouts until September 2022.
Testimonials
Testimonials
Dr Beryl Barratt (aged 88 years)

At 88 years of age, Dr Beryl Barratt never thought she'd still be described as a model student. But this pupil with a keenness to continue learning is exactly that, says Dr Vinay Karanam, her SeniorHangouts tutor. The Wellingtonian had absolutely no idea of the workings of computers until last year. Thanks to SeniorNet, which facilitates face-to-face technology classes for those aged 50 plus, and SeniorHangouts, the virtual version, she has learned a lot about digital technology over the past 18 months.

"Beryl has a smartphone and Zooms in to interact," Vinay says. "We have become good friends thanks to SeniorHangouts and her smartphone."
Beryl - a retired soil scientist - confesses to previously knowing "nothing" about digital technology and admits it was fear that inspired her to get with the times. Technology was changing and she didn't want to be left behind. "We are now in a digital age whether we like it or not," she says, adding that she had to learn from scratch and discovered there is much to marvel at. "Things have certainly changed. Technology has sped up everything and it's more far reaching than older technology could ever have been." Sending and receiving emails to family in England has been a thrill and she loves the instantaneous communication that allows. Internet banking is something she has also been keen to master - "you have no option with the removal of cheques services" - and she's been practising on a dummy page on her bank's website. She also enjoys searching for video clips on YouTube and learning about the many things her smartphone can do, like scanning the Covid QR code and taking photos of her garden that she then sends via email.

Vinay says many could learn from Beryl's digital knowledge transformation. "If at age 88 she can go from ground zero to reach this stage, then I think she is an inspiration to everyone," he says. "If she can do it, anyone can do it."

SeniorNetNZ is proudly supported by AMI who are generously offering 50-plus customers free SeniorNet membership for 12 months, to help them build the confidence to do more online including managing their insurance, through an ongoing partnership. *
Updated: 4 Apr 2022
Service Description
Service Description
With SeniorNet and SeniorHangouts you need never be alone again…

SeniorNet provides a place for seniors to meet, engage with each other and learn about how to use technology in everyday life. We meet in community centers, libraries, and halls across the country for a cuppa and chat, and training. Please note that we cater to all levels, from those that are fearful and unsure of technology to the advanced. With us, everyone is welcome and no question is 'silly.' We cater to seniors (aged 50 years) with some of our members in their 90's). We also meet up online at www.seniorhangouts.nz - for those that cannot meet in person or who prefer to learn and engage online.

Here is an example of the levels that you may be at - Beginner (little or no understanding of computers or mobile technologies), Intermediate (relatively confident with technology and able to communicate online using social media, emails, etc), or Advanced (confident user of technology with a desire to learn more). Regardless of what level you are at, we offer a wide range of training programs suited to your needs.

You will learn how to operate your computer (or laptop) and/or mobile phone (or tablet). We'll show you how to connect with your loved ones and friends using social media and how to create and send emails with attachments, and show you the basics of internet or online banking and online shopping while staying safe online with social media and messenger Apps. We'll also help you access all those government and local body websites you need to use these days.

SeniorNet training is all about having fun, connecting with others, and learning in an informal and sociable setting at our Learning Centres that are placed in libraries, halls, and other public venues across the country. To find your closest branch please search on www.SeniorNet.NZ

SeniorHangouts is our 'popular meeting place for seniors online.' SeniorHangouts evolved due to the Covid-19 Global Pandemic with its enforced social isolation and 'lockdown periods.' SeniorHangouts is a hosted online platform where seniors learn from our tutors in the comfort of their armchairs and from the safety of their own homes.

So come and join in the fun!

Important: Due to the need for personal safety as a result of Covid-19 we recommend you join both SeniorNet and SeniorHangouts. SeniorNet group classes will be suspended when required by lockdowns whereas SeniorHangouts continues offering you multiple online training sessions on a wide variety of topics every day.

To join or find out more about SeniorNet and SeniorHangouts please click here www.SeniorNet.NZ
Updated: 4 Apr 2022
Payment
Payment
Payment
Status
Details
Payment required
Yes
Membership rates are set by the local branches. A local representative will respond with details via email. The membership fee is nominal usually around $35 per annum although this does vary marginally from region to region
Free
Yes
SeniorHangouts is offered Free courtesy of Google.Org until September 2022
Updated: 4 Apr 2022
Meeting the needs of older people
Meeting the needs of older people
SeniorNet provides a physical location on a weekly basis for seniors to congregate, communicate and learn about how to manage technology on an everyday basis. Great friendships have been struck in some of our centres and overall people very much enjoy the companionship as much as the learning:) We look forward to seeing you at a centre near you. To find the closest centre please visit the website - www.SeniorNet.NZ
Updated: 4 Apr 2022
Suburbs/Districts/Towns Serviced
Suburbs/Districts/Towns Serviced
To find all of our locations please visit www.seniornet.nz
Updated: 4 Apr 2022
After Hours
After Hours
After Hours
Status
Details
After Hours
No
SeniorNet activities all take place during the day approximately around 10am on a week day. You will be notified via email from your local SeniorNet co-ordinator.
Updated: 4 Apr 2022
Access
Access
Access
Status
Details
Easy access
Yes
Once you join your local SeniorNet group you will be notified weekly of the upcoming programs for the following week. You will email as well as local phone contacts for support.
Updated: 4 Apr 2022
Languages Spoken
Languages Spoken
Language
Status
Details
English
Yes
Hindi
Yes
Spanish
Yes
Updated: 10 Apr 2022
Description
Description
SeniorHangouts: 'It's my lifeline'
December 2021
SeniorNet's new online offering has been invaluable for isolated seniors

Many SeniorHangouts members would give digitally savvy teens a run for their money, says project manager Dr Vinay Karanam.
SeniorHangouts is a new online initiative from SeniorNet NZ, which teaches digital skills to older adults.
New Zealand has 56 SeniorNet Learning Centres but lockdowns meant face-to-face learning with its treasured social opportunities gave way to online classes. Seniors are now hanging out, virtually on Zoom, thanks to SeniorHangouts, which was launched in 2020. Group members are upskilling from the comfort of their home, via the very technology they learn about.

Never too old to learn
A year on and SeniorHangouts is living proof that you are never too old to learn, says Vinay, who is both a tutor (they call them buddies at SeniorHangouts) as well as project manager. Vinay has a PhD in science and technology and says he absolutely loves what is being achieved.

"We have people who are all 50 plus - the eldest is 94. They don't attend just passively. No, it is proactive, and you should see their enthusiasm. Their knowledge could put some teenagers to shame."

It was SeniorNet's new executive officer Heather Newell who wondered whether an online version of SeniorNet could work. The answer is a resounding yes - about 3,640 seniors have tapped into this new opportunity.

300 seniors at a time on Zoom
"We had no idea it would be so fabulous," says Vinay. "There is much enthusiasm and great spirit. We have people who don't have a computer at home joining in from public libraries, and we even had someone on a smartphone from a hospital bed."

The Zoom sessions cater for 300 people at a time. They are held at 10am Monday to Friday and run for 30 minutes, which incorporates 20 minutes learning time and 10 minutes chat.

As you would expect, Vinay says, there are regulars - about 40 people who are on every day, and about 60 who attend weekly. For those who can't make it to the live sessions, they are recorded and available on Google classroom. As of November, more than 800 recorded sessions had been clocked up and 10,000 hours of live sessions.

Socialisation is a key benefit
As the chatter shows, friendships are being forged and SeniorHangouts has been of great value during lockdown.

"The feedback includes statements like 'SeniorHangouts is my lifeline'," says Vinay. "Another person said, 'I listen regardless of what is being discussed as I live in a retirement village and I can't get out and can't see family and friends, so SeniorHangouts gives me an opportunity to socialise and make new friends'."

As for what's covered... so many things. These include how technology can be used for entertainment (Netflix and alternatives such as Tubi and Plex that are free), social media, online government services, online banking and shopping, connecting with family and friends, how to download apps and put things like loyalty cards on apps, and how to use gadgets and devices like Chromecast, Apple TV, smartphones and smart watches.

Seniors can also learn about cyber security, health and wellbeing. There are also special interest groups covering topics like genealogy, holiday planning, electric cars, power generation, drones, cooking, photography and saving money.

The general consensus is that SeniorHangouts has a permanent role, post-Covid, as a learning tool and a way of connecting socially isolated people.

"I think it is absolutely a thing for the future," Vinay says. "There are many advantages to this system in conjunction with face-to-face SeniorNet gatherings."

Being able to join a session from the armchair at home is advantageous for those with mobility issues, for example, and those who may have to travel far to visit a SeniorNet Learning Centre. Virtual gatherings save money, time, and travel stress, there are no bad weather concerns, and it's a net zero carbon option too, Vinay says.
Updated: 4 Apr 2022
What's New
What's New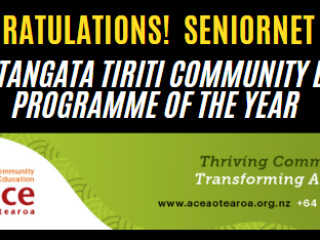 We are absolutely thrilled and honoured to be the recipient of the #ACE Adult and Community Education Awards 2022 Tangata Tiriti Community Based Programme of the Year! for our #SeniorNet #SeniorHangouts Programme. Plus Heather Newell, our SeniorNet Executive Director is the recipient of the Tangata Tiriti Educator of the Year Award. Thank you to the wonderful team at ACE Adult Community Education for the great work that you do for our New Zealand communities. #SeniorNet #KeepingNZSeniorsSafeAndConnectedOnline #education #thankyou #awards #NewZealand #Education
Updated: 18 May 2022
17270