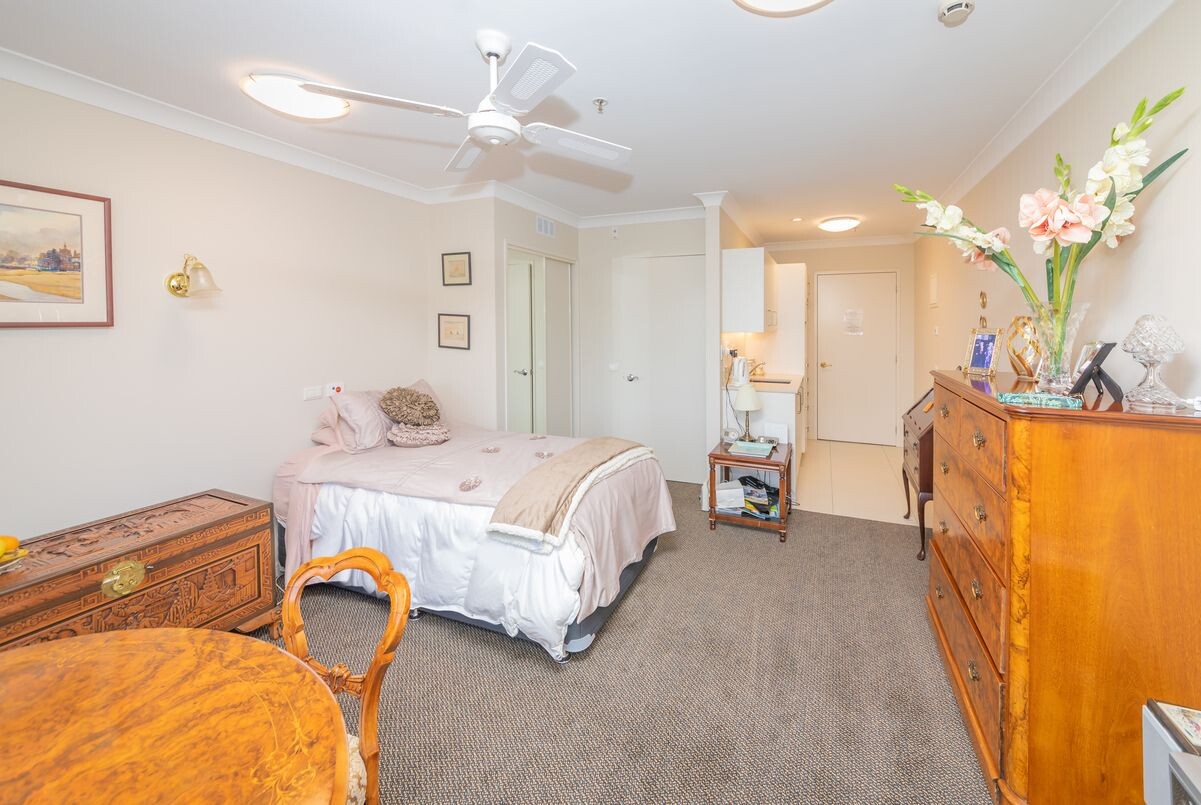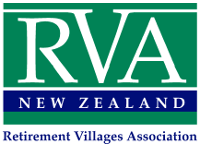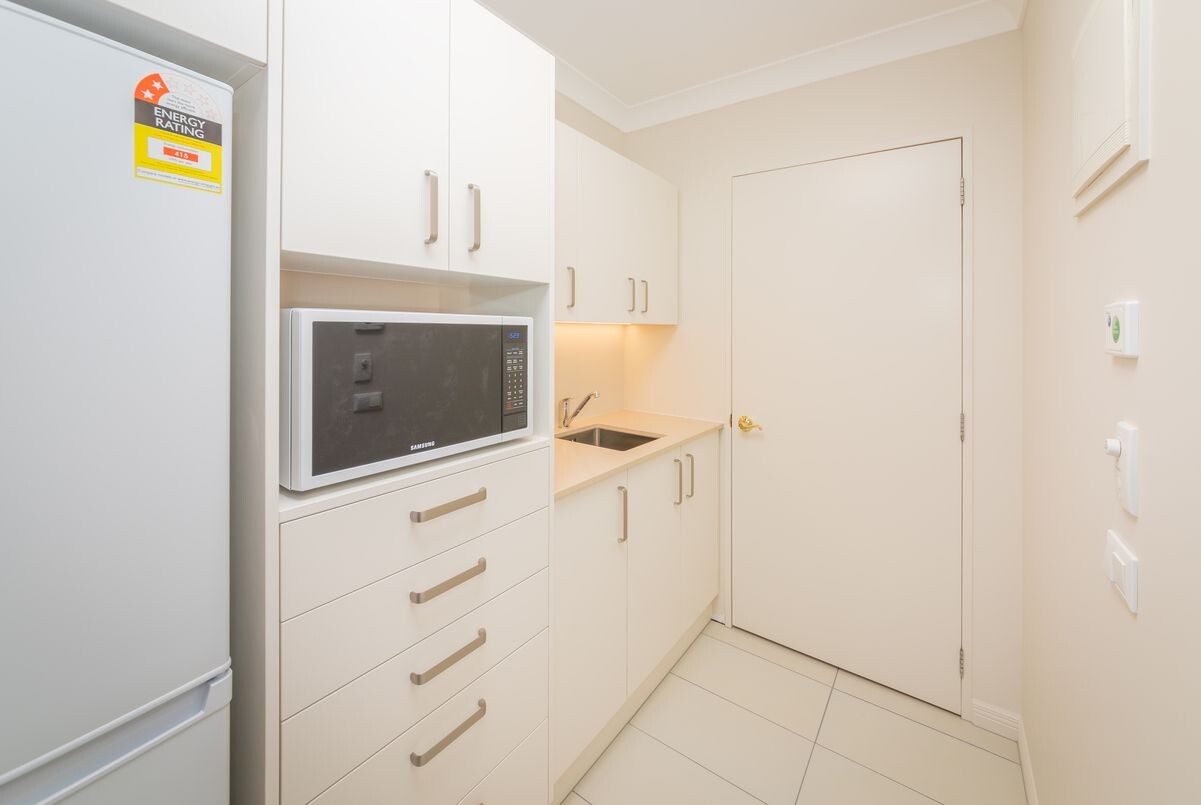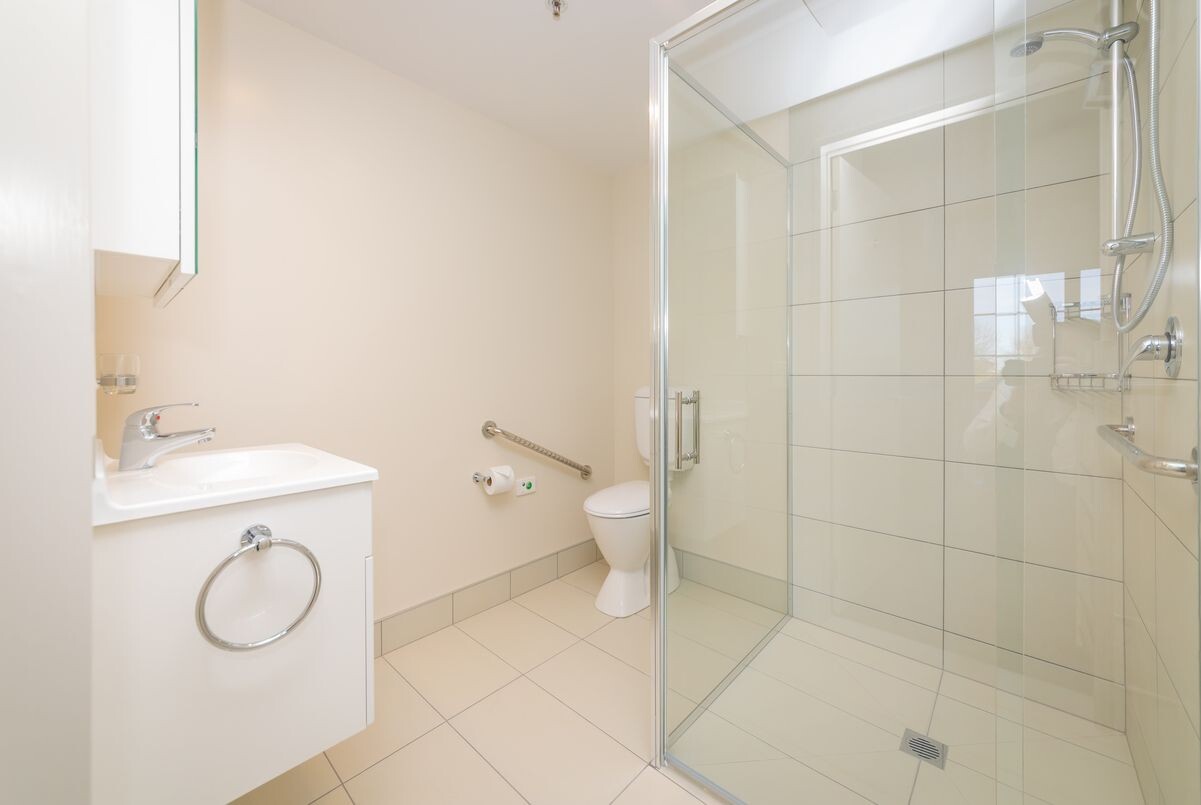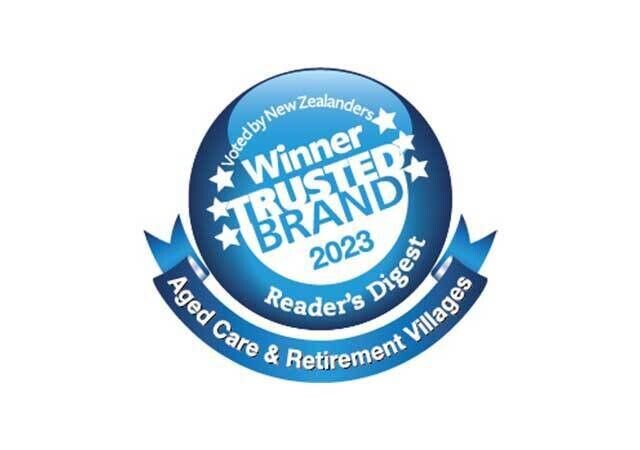 Tap to view property photos
1/4

1

22m2

Play Video
Jane Winstone Retirement Village
$335,000
Salesperson
Frances Quirk
Contact Us Now
06 348 9564
Property Type: Serviced Apartment

Don't miss out on this cosy studio serviced apartment.

Located on the top floor, soak up the morning sunshine while taking in the beautiful views stretched to Bastia Hill and Durie Hill. With this apartment being close to the village atrium, stay easily connected to our vibrant village community. Whether you fancy a refreshing dip in the pool or indulging in a good book in the library, the options are endless.

Assisted living in a serviced apartment gives you more time to embrace the things that bring you joy, while we take care of your housekeeping, home maintenance, a daily chef-prepared meal and more! Better yet, serviced apartments are located in the heart of our village communities, so every day brings opportunities to connect with others and enjoy the amenities and activities.

Your new home at Jane Winstone Village is within walking distance to the beautiful Virginia Lake Reserve where you can stroll through the winter gardens or meet friends for lunch. Venturing around Whanganui is a breeze with a bus stop situated right outside the village.

Your $10,000 new home offer
Purchase an occupation right to any Ryman serviced apartment by 22 December and receive a $10,000 credit on settlement. Terms and conditions apply.*

Plus, enjoy financial certainty with a fixed deposit of just $9,500 and a base weekly fee that is fixed for the entire time you occupy your new home.

This opportunity won't last long so call Frances on 06 348 9564 today and make an appointment to view this gorgeous home.

(Photos are indicative.)

*View terms and conditions here: https://www.rymanhealthcare.co.nz/ts&cs

REF: JW SA310
About Jane Winstone Retirement Village
At a glance

Name

Jane Winstone Retirement Village

Category

Retirement Village

Address

49 Oakland Avenue
St Johns Hill
Wanganui 4500

Region

Whanganui

Phone

Fax

Email

Web

Facebook
Personnel
Manager

Lisa Puklowski - 06 345 6783

Owner

Ryman Healthcare Ltd

Sales Advisor

Frances Quirk - 06 348 9564
Other services
Media
Map
Downloads
Reviews
We're passionate about creating communities where residents thrive - where there's joy and lifelong friendships. And that's why we're proud to be voted The Reader's Digest most trusted retirement village operator again this year – for the ninth time!

At Jane Winstone Village, we're dedicated to caring for you now and into your future. It's comforting for couples at different stages in their health to know that they can be cared for within the same Ryman village, by the same Ryman team.

We provide independent living and assisted-living apartments, as well as resthome, hospital and specialist dementia care. Providing a range of living and care options is just one of Ryman's points of difference.

Located in Oakland Avenue, the village is within walking distance of nearby Virginia Lake Reserve and local shops. Amenities include an all-weather bowling green, indoor heated swimming pool, spa, library, gym, grand internal atrium, historic chapel, hair salon, shop and bar.

At Ryman, we believe the measure of a full life is one that gets richer with age. With communities that challenge what we think about ageing and bring joy and meaning to every moment.

Ryman offer some of the most resident-friendly and transparent terms in Australasia, with agreements written in plain language so they are easy for everyone to understand.

Ryman's deferred management fees is capped, with our standard fee of 20% one of the lowest in the industry*.

Leading innovation is something that Ryman are becoming renowned for. Our seasonal Delicious menu is made fresh on site by in-house village chefs. If you ever feel like letting someone else do the cooking, you can choose from three main courses, including a vegetarian option. We also cater for special dietary requirements.

Just like our Delicious meals, our individually frozen meals are made fresh, using only natural ingredients. The ready-to-eat meals are very reasonably priced and are available to purchase from the village café or reception.

We've developed our own ACC accredited Triple A exercise programme. Catering for all ability levels, this free programme improves strength, balance and mobility. Our Engage activities programme provides events and activities for residents, such as the weekly happy hour, arts and crafts, and outings in the village van.

Having daily activities and events to look forward to, combined with a friendly village environment, is what life is all about. It's those moments of shared joy and laughter. Because At Ryman villages, we create the kind of community that our residents grew up in – connected and caring.

Our townhouses are designed with the over 70s in mind. Their spacious, well-considered layouts include kitchens and bathrooms that make daily life easy for you. For your peace of mind, call bells are monitored 24 hours a day by on-site staff, and we have 24-hour security to ensure your safety at all times.

The lifestyle at Jane Winstone Village has so many wonderful aspects. However, we appreciate that everyone has different needs and expectations. Which is why we encourage you to come and visit.

Compare Ryman's terms with other retirement village providers, find out what care options they provide for the future, and join in with the activities or events on offer. That way, you'll obtain a real appreciation of village lifestyle, and whether you can see yourself living there.

We look forward to introducing you to our wonderful community.

*Some conditions apply
Upcoming Open Days
Upcoming Open Days
No open days are currently scheduled.
Available Properties
Available Properties
Details
Photo

$335,000

1 22m2

Property Type: Serviced Apartment

Don't miss out on this cosy studio serviced apartment. Located on the top floor, soak up the morning sunshine while taking in the beautiful views stretched to Bastia Hill and Durie Hill. With this...
Agent's Details
Agent's Details
Details
Name
Frances Quirk
Address
49 Oakland Avenue
City/Town
Wanganui
Company
Ryman Healthcare Ltd
Phone
06 348 9564
Fax
06 345 6870
Email
View Email Address
Updated: 1 Jun 2023
Statutory Supervisor's Details
Statutory Supervisor's Details
Details
Name
Richard Mcloughlin
Address
1 Sir William Pickering Drive, Burnside
City/Town
Christchurch, 8053
Company
Anchorage Trustess Services Limited
Phone
03 366 6713
Fax
03 379 2424
Updated: 1 Jun 2023
Solicitor's Details
Solicitor's Details
Details
Name
Nick Letham
Address
245 Blenheim Road
City/Town
Christchurch
Company
Chapman Tripp
Phone
03 353 4130
Fax
03 365 4587
Email
View Email Address
Updated: 1 Jun 2023
Respite, Carer Support or other Short Stay
Respite, Carer Support or other Short Stay
Respite, Carer Support or other Short Stay
Status
Details
Respite
Yes
Serviced Apartment, Resthome and Hospital respite care offered, subject to availability.
Carer Support
Yes
Subsidised
Yes
Private Paying
Yes
Booking can be made in advance
Yes
Updated: 1 Jun 2023
Personnel & Services
Personnel & Services
Personnel / Service
Hours Per Week
Status
Details
Hairdresser
Yes
We have a hairdresser on site Monday to Friday.
Podiatrist
Yes
Physiotherapist
Yes
Chaplain/Spiritual Advisor
Yes
Village residents are welcome to attend our services. A Chaplin visit can also be organised if required.
Activities Co-ordinator
Yes
An Activities Co-ordinator works five days a week.
Meals - Available On-site
Yes
Home Help - Available On-site
Yes
Registered Nurse
Yes
Nursing Care
Yes
Other Personnel
Yes
Service apartment co-ordinator
Updated: 1 Jun 2023
Facility Features
Facility Features
Feature
Status
Details
Social/Recreational Programme
Yes
Community Complex
Yes
24 Hour Security
Yes
Emergency Call System
Yes
Each assisted-living apartment has 3 emergency call bell points. NB: Residents have the option to purchase a wireless pendant alarm which is compatible with the village nurse call alarm system if so desired.
Newsletter
Yes
Monthly special events calendar as well as a weekly activities calendar is produced for each area via the activities co-ordinator.
Pets In Residence
Yes
Negotiate To Bring Own Pet
Yes
Negotiable with Village Management.
Outings
Yes
Frequent outings, shopping twice weekly, bank visit fortnightly.
Transport Available
Yes
Restaurant
Yes
Townhouse residents, family and guests able to purchase main meal of day.
Fitness Complex
Yes
Swimming Pool
Yes
10 metre, tepid (30 degrees).
Spa Pool
Yes
Seats 6.
Library
Yes
Well stocked, cyber cafe.
Games Room
Yes
snooker table, card tables etc.
Chapel
Yes
Very large, original (1918).
Lounges
Yes
Bar, grand piano.
Gardens
Yes
Well laid out and maintained.
Other details
Yes
Tiger turf bowling green.
Updated: 15 May 2023
Special Features
Special Features
Jane Winstone Retirement Village is a purpose built village which aims to exceed expectations and satisfy the unique requirements of all our residents.

Independent Living
Our modern architecturally designed townhouses provide you with the very best of retirement living. You enjoy the independence of owning your own home, are part of the village community and will enjoy all the fantastic resort style facilities right on your doorstep.

Assisted Living
In an assisted-living apartment, you can maintain your independence while enjoying assistance from our caring and friendly staff. You'll enjoy delicious meals, housekeeping and transport services all with the peace of mind - for you and your family - that a little extra help is always close at hand from our qualified staff, 24 hours a day.

Full time activity co-ordinators ensure there is always entertainment, outings, guest speakers, groups and clubs, happy hour, and all sorts of activities to keep residents entertained.
Updated: 1 Jun 2023
Interests & Activities
Interests & Activities
The Village employs full time activity co-ordinators whose primary job is to plan and manage a wide range of entertainment and activity for residents to enjoy.

Activity programme, Advocate, Age Concern, Alzheimer's Society, Art, Arthritis society, BBQ, Big print books, Billiards, Bingo, Blind Foundation, Board games, Bowls, Breakfast in bed, Bridge, Canine friends, Cards, Care and Craft, Casino, Children, Church, Classical Music, Concerts, Cooking, Craft, Dancing, Digital camera, Electric beds, Email, Entertainers, Entertainment, Exercises, Fax, Flower arranging, Games, Garden, Gardening, Happy Hour, Holidays, Housie, Indoor Games, Internet, Jigsaw, Lectures, Library, Lions, Mah Jong, Lotto, Massage, Men, Minibus, Movies, Music, Newspaper reading, Outings, Park, Parties, Petanque, Pianist, Picnic facilities, Pool, Pool table, Probus, Quizzes, Reading, Shopping, Singing, Sky TV, Spa, Swimming, Theatre, Travel, Vegetarian, Videos
Updated: 1 Jun 2023
Languages Spoken
Languages Spoken
Language
Status
Details
English
Yes
Updated: 1 Jun 2023
Religious/Spiritual Affiliations
Religious/Spiritual Affiliations
Religious/Spiritual Affiliations
Status
Details
Inter denominational
Yes
With variety of services held at the village.
Updated: 1 Jun 2023
Distances
Distances
Location
Distance
Details
Public Transport
0.00 Km
We have a bus stop right at our front gate.
Shops
0.50 Km
A short walk away we have a small shopping centre which has a dairy, chemist, fish and chip shop, bakery and hairdresser.
Mall
1.00 Km
The Wanganui town centre is 1km away and has a range of shops and cafes.
Parks
0.30 Km
Virginia Lake is a lovely reserve close by which has walks, gardens, cafe, and wildlife including ducklings at the right time of year.
Library
We are visited by a mobile library on a fortnightly basis.
Updated: 1 Jun 2023
Credentials & Membership
NOTE: The Retirement Villages Act 2003 (The Act) is designed to provide improved protection for people who 'buy' into a retirement village. If you intend to 'purchase' you must get independent legal advice before signing your occupation right agreement as required under The Act. Some Retirement Village type facilities are not required to register under The Act so different legal requirements apply. Please make sure you investigate fully.
In some villages there may be some Retirement Village units that have multiple uses e.g. a Serviced Apartment may also be used as a Residential Care Suite. The same unit may therefore show in several places on Eldernet.