Hospital
Everil Orr Rest Home & Village
At a glance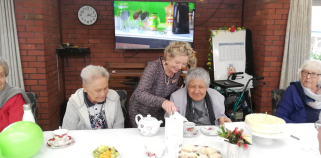 Vacancy

No

Name

Everil Orr Rest Home & Village

Category

Hospital

Address

63 Allendale Road
Mount Albert
Auckland 1025

Postal Address

Same as above

Region

Auckland

Phone

Mobile

Email

Web
Personnel
Manager

Helen Saberton

Owner

Oceania Healthcare - 0800 333 688

Rest Home and Hospital Manager

Helen Saberton - 098152740

Village & Sales Manager

Merrin Gemmell - 0800 333 688

Administration rest Home and Ho

Sandra Anderson - 098152740
Other services

Located on a quiet street overlooking the stunning Waitakere Ranges, Everil Orr offers options for both aged care and retirement living, with one, two and two-plus-bedroom apartments for independent living, and a range of standard and premium care rooms.

Just like Mt Albert, Everil Orr is a welcoming and family-friendly community. From the smiley staff who greet you in the hallways, to the comfortable living spaces, you'll feel right at home. Our main lounge is a lively hub of activity. Follow the music and laughter to find a friend to chat to, or to join in the day's events. Or if it's peace and quiet you crave, relax in a comfy chair with a book in one of our many cosy nooks.

You couldn't ask for a more convenient location. Right around the corner from Mt Albert Village, you're spoilt for choice with a range of cafes and eateries. Lynn mall and St Lukes mall are less than 10 minutes away, as are the local pools and library. Enjoy high tea at historic Alberton house, or a paddle at Pt. Chev beach. You're free to come and go as you please and we encourage you to stay connected with family and community.

Your room is your own private space, so you can decorate it with your favourite pictures and ornaments. Standard rooms are large enough for a single bed, a chair and a wardrobe or chest of drawers. The cost of a standard room is included in the Care Services Fee set by the DHB. Premium rooms have additional features such as more space, an ensuite bathroom or outdoor access, but you'll need to pay an extra amount per day to cover the cost of these premium features.

We don't have visiting hours at Everil Orr because we know it's important you stay connected to your community. It's home, so friends and family can join you anytime for a cuppa and catch up. We're just around the corner from the Motorway, so it's a breeze for visitors to pop in, or get you out and about to local shops and cafes.

Activities
Hop in the village van for a jaunt, you'll never know where it will take you next. Hot chips on the ferry to Devonport, or off to browse the shops at Lynnmall, there's an exciting destination each week. We're always keen to explore so suggestion are always welcome, or if it's music you're in to, enjoy your own personalised playlist with I Love Music. Furry friends, family BBQs, competitive games and theme days, there's something for everyone no matter what you're interested in.

Food
Tender Sunday roasts, hot fish and chips and scrummy homemade puddings… there's a reason why we've won awards for our food! All of the above are regular features on our menu, which is packed with tasty family favourites you'd make at home. You'll be sure to be up for second helpings!

Award Winning Care
Great care is what we do and we've got the paper to prove it. Oceania's won multiple supreme awards from the New Zealand Aged Care Association, so you can be sure you're in good hands. When it comes to your care, you know what you like and don't like - and we want to know too. Because everyone is different all of our residents get a personalised care plan, so from meals to medications, everything that's important to you is covered.
Service/Facility Details
Service/Facility Details
Detail
Status
Contract with DHB
Yes
Certification
Yes
ORA Applies
No
Updated: 27 May 2021
Bed and Vacancy Details
Bed and Vacancy Details
Detail
Status
Approximate number of beds at this level of care
22
Vacancy
No
Impending vacancy
No
Premium Room Charges
Some Rooms from $15.00/day up to $22.00/day as at 17 Jun 2022
MOH Certification and Audit Report
View MOH certification and audit report (opens in a new tab)
Extra admission requirements due to COVID-19
Please enquire
Updated: 19 Aug 2022
Testimonials
Testimonials
19/02/2021
Complements to the Kitchen team for their attention to detail especially at Happy Hour. PB

14/06/2021
The Queens Birthday Celebrations were great. Activity staff had gone to so much trouble with the Fashion parade. The bunting and balloons were lovely. The Samoan language week was a great success with the end celebration of singing and traditional dancing. Everyone was so happy.

11/07/2021
Please let everyone now how pleased I am with the cleanliness and cleaning skills of your Housekeeping team.

22/09/2021
In this time of uncertainty, with Covid, with restrictions, with lock downs, not to mention the small matter of Mums compromised health, she remains cheerful , delighted and appreciative of all you- the lovely Team there. MM



Words cannot express the loving care and kindness you all gave to my Mum. You are all angels - L.L.

You gave my Mother such wonderful care and I loved the nice way staff spoke not only to the residents and families but to each other. My Mother enjoyed being here at Everil Orr- B.H.

The staff cared for my Mother so kindly and they gave her love, laughed with her, talked to her, shared their lives with her and made her last months, weeks, days very secure and happy - B.A.D.B



I would just like to say I have had nothing but positive experiences with your facility. Your staff are both polite and helpful and reassuring. They take the time to talk to me, provide me with helpful information so that I can feel reassured that my Mother is getting only the best of care. I know she is being treated with respect and dignity and for that I am truly grateful - C.

Just wanted to pass on how much we enjoyed the Christmas party and to congratulate all the staff on such an enormous effort. You are a special group of people at Everil Orr -G.N.

I am always amazed by your kindness, patience and friendliness while you looked after my Father. He was not an easy resident at times but your faithful care ensured that he was comfortable. He had many visits to the hospital but he always looked forward to coming home to Everil Orr again - T.B.
Updated: 27 Sep 2021
Personnel
Personnel
Type
Hours Per Week
Status
Details
Registered Nurse
Yes
We have Registered nurses on duty 24 hours a day in both the hospital and rest home. This is complimented with our very experienced Clinical Leader who leads our clinical care team.Out of hours support is also provided for our nurses.
Nurse Practitioner
Negotiable
Gerontology., wound and mental health Nurse practitioners are employed by the ADHB & provide advice to us on request when we need some specialist advice.
Healthcare Assistants/Caregivers
Yes
Health care assistants make up the largest number of our care staff. Training is provided and encouraged for all of our staff so they provide skilled, competent care with confidence and compassion. We have a multi cultural group of workers.
Physiotherapist
Yes
A contracted physiotherapist works on site each week. This is complimented by the physiotherapy assisatnt who can provide additional support under the direction of the physiotherapist.
Occupational Therapist
Negotiable
We are able to access OT services for individuals as required.This service is provided at the individual resident's own expense.
Social Worker (on site)
No
We are able to access social work services for individuals as required.
Diversional Therapist
No
We have two Activities coordinators who are both undertaking the National certificate in divisional therapy
Activities Co-ordinator
Yes
Our activites team work flexible hours across the entire week to provide events during the day, in an evening. One on one/modified activities to suit are provided in our hospital area plus facility wide events and outings
Hairdresser
Yes
We have a hair salon, and shop on site. These are managed by our fantastic qualified hairdresser.Services are at your expense but we do make every effort to keep our charges to you as low as possible for your convenience.
Podiatrist
Yes
We have a contracted podiatrist who vists as required. Charges for this service depend on individual circumstances. Podiatrist services can be arranged privately.
Dietitian
Yes
Our Oceania Healthcare dietitian provides assistance for individual residents as required in conjunction with our Kitchen Manager/CHEF. Our menu is planned by our dietician and audited to ensure it provides well balanced nutricious meals.
Accredited Visitors
Negotiable
We are happy for Age Concern accredited visitors, stroke foundation, church and cultural organisation's to visit.
Kaumatua
Negotiable
We do however have an established relationship with the Manurewa Marae and consult with cultural advisors particularly in regard to the Maori and Pacific Island cultures.
Chaplain/Spiritual Advisor
Yes
Our chaplain visits our residents regularly and welcomes interaction with residents of all religious backgrounds. She is particularly skilled in providing guidance relating to end of life care. She leads services/funerals in the chapel.
Other Personnel
Yes
We have a number of volunteers who are involved in a range of activities in the facility. We warmly welcome anyone interested in volunteering to contact us.
Updated: 27 May 2021
Specialities or Areas of Expertise
Specialities or Areas of Expertise
Specialities or Areas of Expertise
Status
Details
Oxygen Management
Yes
Our staff are trained and experienced in managing oxygen therapy.
Gastronomy/Nasogastric Management
Yes
Specialists are available on a consultancy basis as needed. Our staff are trained and experienced in providing gastronomy and nasogastric care. Our dietician works closely with us to ensure the best outcome for the person.
Palliative Care (Contracted)
No
We work closely with Mercy Hospice and have specialist Nurses who provide individual and specialised care for folk who are nearing the end of their physical life on earth. "Life while living "
End of Life/Palliative Care
Yes
Our registered nurses are trained and experienced to met the special needs of the dying person and their whanau /family and friends. Our focus is on gentle loving care with a holistic approach and utilising pharmaceutical interventions to alleviate pain and suffering . Your Spiritual needs are supported by our chaplain.
IV Antibiotic Capability
Yes
We work closely with our local rapid response team of expert district Nurses who will provide intra venous antibiotic therapy as prescribed by the Dr to our residents on site.
Dialysis
Yes
We have trained staff who are familiar and confident with peritoneal dialysis. We work in close relationship with the dialysis unit in the hospital during the periods that we have residents who require peritoneal dialysis.
Wound Care
Yes
Staff are experienced and competent to provide both simple and complex wound care. We seek the advice of expert Nurses should we have a challenging resident wound.
Diabetic Care
Yes
Available on a consultancy basis as needed.Staff are experienced and skilled in this area.
Continence Advice
Yes
Staff are experienced and skilled in this area; our continence product supplier is a continence expert who assists us to make sure the residents continence needs are met.
Stomal Therapy
No
Specialist is available on a consultancy basis as needed. Our Registered Nurses are trained and experienced to provide stoma care.
Stroke Rehabilitation
No
Available on a consultancy basis as needed.
Tracheotomy Care
Yes
Available on a consultancy basis as needed. Some of our RNs are very experienced with the care of people with tracheostomies.
Spinal Injuries Care
Yes
Our experienced team of RNs are able to provide safe an competent care for people who have suffered a spinal injury.
Infection Control
Yes
We have a well developed infection control system based on best practice and approved by our company clinical and quality team.
Surgical Followup
Yes
Contract with the District Health Board to provide service
Psychiatric Care
Yes
We work in conjunction with the different community mental health teams or Older Peoples Health Services.
Clinical Management
Yes
Full time clinical manager, who is an experienced registered nurse. She oversees all the clinical aspects in the facility and works closely with the facility manager.
Other Specialties
Yes
Our Business and Care Manager has many Years Nursing experience and has also worked in Nursing education.
Updated: 27 May 2021
Respite, Carer Support or other Short Stay
Respite, Carer Support or other Short Stay
Respite, Carer Support or other Short Stay
Status
Details
Respite
Yes
We are happy to offer respite care. This service is dependent on bed availability when you need it.
Carer Support
Yes
We are happy to offer carer support and other short term stays. This service is dependent on bed availability at the time.
Other Short Stay Programme
Yes
We can provide POAC funded short stay this is usually up to 3 nights following discharge from Hospital
High Care Needs
Yes
Our Tahi wing provides care for highly dependant resident's.
Subsidised
Yes
We welcome subsidised residents.
Private Paying
Yes
We welcome private payers in our services.
Booking can be made in advance
Yes
We are happy to take advance booking and to plan ahead with you where we are confident we can provide the service required at that time. If there is a room available we can take folk at short notice and for emergency situations.
Updated: 27 May 2021
Features
Features
Feature
Status
Details
May Bring Own Furniture
Yes
Residents are welcome to bring in any pieces of furniture that will make their room feel like home. The exception is the bed as all our beds are electrically operated and fitted with pressure relieving mattresses.
Single Rooms
Yes
The majority of our rooms are for single occupancy except 2 rooms that can accommodate 2 single beds.
Shared Rooms
No
We do not place people in a shared room. The exception is married couples if this is appropriate.
Rooms suitable for a couple
Yes
We have 2 rooms that are able to accommodate a couple if this is in the best interest of both parties.
Ensuite
Yes
Some rooms have en-suites.
Alcohol Permitted
Yes
Alcohol is permitted for individual residents and we have a Happy Hour on a weekly basis.
Pets In Residence
Yes
We have a couple of pets in residence including 2 cockatiels, a tank of fish and a cat.
Negotiate To Bring Own Pet
Yes
We will consider all requests on an individual basis, but unfortunately cannot accommodate dogs.
Phone Access In Own Room
Yes
This service is able to be provided but is at the persons own expense. Connections need to be arranged by the person or their family.
Wifi
Yes
Newly installed for your convenience and at no cost.
Resident can adjust heating in own room
Yes
Heating is provided in all rooms and can be individually adjusted. Personal heaters are not permitted.
Cater for under 65 yrs with Disability
Yes
We have a contract to provide services for younger persons and currently have a number of residents living with us who are under 65 years.
Lounges/seating areas
Yes
There are several lounge and outdoor seating areas that residents and their families can enjoy. We have a newly created kiddies corner and cozy cafe for family and friends.
Cafe
Yes
For residents and family/Whanau use only.
Gay / LGBT IQ Friendly
Yes
Primary Health Funded Short Term Care
Yes
We are happy to provide transition care . This service is dependent on bed availability at the time.
Provide End of Life/Palliative Care
Yes
Our staff are experienced and competent to deliver palliative care. We also work closely with hospice and other palliative care services. Our chaplain is also experienced in offering palliative care support to residents and their families.
Palliative Care Contract
Yes
We are able to provide for residents funded under palliative care funding contracts.
Day Programme for day stay clients
No
We do not offer day care services.
Outings
Yes
We offer a regular weekly trip to the mall which is well attended. We also offer other trips out that are arranged around weather and events.
Whanau Room
Yes
The Whanau room/ café is available with comfortable chairs, tea and coffee. This room is available 24/7.
Maori Kaupapa
Yes
Everil Orr has an established relationship with the Manurewa marae and also has several Maori staff members.
Residents Committee
Yes
Two monthly resident's and family meetings are held, facilitated by our Activity team.
Family Committee
No
Families are welcome at our residents meetings.
Newsletter
Yes
A three monthly newsletter is provided to keep everyone up to date with changes, events and happenings.
Policy for management of challenging behaviour
Yes
Oceania has a robust policy for managing challenging behaviour. Training is provided for all staff so they have the necessary skills to act in the residents best interests safely.
Confused Residents
Yes
Our staff are trained and competent to look after confused residents. However we are not a secure facility and do not cater for people who require confinement for their ongoing safety.
Smokers Room
No
We do not promote smoking
Smoking Permitted
Yes
Smoking is permitted in the safe designated outdoor area
Semi-Secure
No
Everil Orr is not a secure Facility , however our staff do keep close track of our residents and their whereabouts to ensure their safety.
Updated: 27 Sep 2021
Special Features
Special Features
We enjoy beautiful views of the upper Waitemata harbour. The park like gardens are well maintained and spending time in the grounds on a fine day is peaceful and relaxing.

We have a large multi cultural staff who bring many qualities to our Village life.It provides us with contrast and diversity as well as an ability to accomodate many different languages. Our staff are not only well trained and competent but bright, cheerful, happy and caring.

Our on site kitchen provide lovely tasty meals and snacks. We cater for individual preferences and needs.
Updated: 27 May 2021
Interests & Activities
Interests & Activities
We encourage our residents to continue with activities already of interest to them as well as to discover new pastimes. We organise a varied programme and offer the opportunity for specifically requested events and outings as well. Residents have the opportunity of joining in with a group, getting together with a friend or visitor or spending some quiet time alone. There are many spaces available to accomodate all of these needs.
Books, games and movies etc. are left out for you to choose to enjoy and share anytime.
And if you can't find what you are looking for amongst our planned activities or resources then let us know. You may be surprised at what we can come up with.
Kiddies corner is our new space for grand children and great grand children to play in. This will soon be complimented with our cafe .
Updated: 27 May 2021
Additional Information
Additional Information
Topic
Details
What's included in your fees and what's not
Please refer to management for full details.
Staffing qualifications and details
Our kitchen is well staffed with trained and competent cooks and chefs. Our menu is audited and planned by our dietician to ensure you receive a well balanced and nutritious diet. Our dietician is available to consult on specific needs as required.
Details about meals
We have a Summer Menu and a Winter Menu which change with the season. Menus are planned for a month at a time, with no repetition during the month period. These rotate through the season. We provide a vegetarian option at each meal. Individual preferences, choices, cultural considerations and needs are all catered for.
Associated Complexes
The Everil Orr new independent apartment blocks Astley and Garlick named after Methodist Mission benefactors.
Updated: 27 May 2021
Languages Spoken
Languages Spoken
Language
Status
Details
Afrikaans
Yes
Some of the staff are able to communicate in Afrikaans.
Arabic
Yes
Cantonese
Yes
Some of the staff are able to communicate in Cantonese.
Chinese
Yes
Some staff are Chinese.
Chinese dialect
Yes
English
Yes
This is the most commonly spoken language.
Ethiopian
Yes
Some staff are Ethiopian.
Fijian
Yes
Fijian Indian
Yes
Some staff are Fijian Indian
Filipino
Yes
Hindi
Yes
Some staff are able to communicate in Hindi
Interpreter
No
We are able to access an interpreter if the need arises.
Japanese
Yes
Korean
Yes
Maori - Te Reo
Yes
Some of the staff are Maori and Maori - Te Reo is their first language.
Rarotongan
Yes
Some of the staff come from Rarotonga.
Samoan
Yes
Sri Lankan
Yes
Tongan
Yes
Some staff areTongan
Updated: 27 May 2021
Religious/Spiritual Affiliations
Religious/Spiritual Affiliations
Religious/Spiritual Affiliations
Status
Details
Christian
Yes
Methodist
Yes
Chapel on site where chaplain conducts services on Sundays for those residents who choose to attend.
(Other comments)
No
This is an interdenominational facility. People with all religions and/or no religion are welcome. We have a site chaplain who facilitates Sunday services and provides pastoral care to any who need it.
Updated: 27 May 2021
Distances
Distances
Location
Distance
Details
Public Transport
0.30 Km
We are conveniently located 1 street away from the bus route.
Shops
0.00 Km
The Mt. Albert shops are approximately 500m away. We operate a shop in the facility 5 days a week and there is a vending machine located in reception.
Mall
2.50 Km
St. Lukes is the closest Mall. New Lynn Mall is approximately 6.5km away and is visited by our residents on a weekly basis.
Parks
0.30 Km
Mt Albert park is within walking distance.
Library
6.50 Km
The mobile library service visits once a fortnight. We are also able to arrange for talking books for those needing these. New Lynn War memorial library is our closest library we visit New lynn weekly on Tuesdays
Updated: 27 May 2021
Credentials & Membership
The Ministry of Health conducts regular audits of Residential Care Facilities. They can be found HERE.
291