Sector recruitment & training
At a glance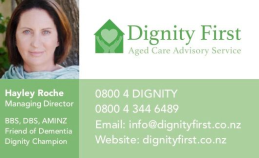 Name

Dignity First

Category

Sector recruitment & training

Address

Wellington Area

Postal Address

Same as above

DHBS

Hutt Valley, Capital & Coast

Phone

Mobile

Email

Web

Facebook
Personnel
At Dignity First, we help families.

We give you a helping hand organising your elderly loved ones and be there when you can't be.

Organising support for your elderly loved ones and being there for them, can be challenging. We know, we've been there.  We know how confusing and time consuming looking for support can be, we know that it can be hard being there as much as you would like.

So, we help you.
We give you advice and practical help to get your elderly family members the support they need. You will have all the information so you have the confidence to make informed decisions.  We then organise that support.

At Dignity First we understand it can be difficult to be there for your loved ones as much as you would like to be.  So, we are your eyes on the ground and provide you with peace of mind. We look in on your loved ones, taking the time to listen and then letting you know how they are, we are a support person at appointments and help with shopping and whatever it is you need.

We are your "go to" when you need help with your loved one. We are an independent elder support consultancy service covering the Wellington region of New Zealand. 

Dignity First is with you each step of the way ensuring confidentiality, understanding and respect.
Testimonials
Testimonials
Katherine from Christchurch:

"With a father in hospital and both my brother and I living in different cities we were struggling to know where to get information on after care, assessments required and who to talk to.  I was recommended to talk to Hayley from Dignity First to help us navigate and understand the resources available. 
Hayley compiled a list of links, phone numbers and details on what questions to ask the relevant agencies.  This enabled us to work quickly to mobilise the necessary resources and organise the care required for my father. My brother and I had no idea where to start and with the Dignity First information Hayley provided made the whole process less stressful when we were trying to manage the care from afar.  Great value for money and I highly recommend this service to anyone who is time poor and looking for practical professional help for their older family member."
Updated: 8 Nov 2019
Service Description
Service Description
WHERE TO START
It can be difficult to know where to start.
Your loved one may have a sudden illness or accident or they may just be struggling to maintain their independence and need some help.
But you may not know where to start, what help they need and what help exists and you can sit on "google" not knowing to type in.

We take a holistic look at how your loved one likes to live their life and work with you to establish what care and assistance they need to live that life. We then provide you with information on what options there are to provide that help.

This saves you time and frustration and gives you assurance that you have all the information you need to make informed decisions for your loved ones.


FIND A CARE HOME
The decision to move into care is an emotional time not only for the person but for their families as well. We know, we have been there. Adding to that stress is how time consuming attempting to navigate the system, finding a care home and organising matters can be. We do the work for you. We listen to your needs and wants and provide you with options that meet those needs and wants. Once you have decided to move into care, there is a lot that needs to organised. Dignity First helps you with that, arrange appointments with the care home and drive your loved ones to visit them, liaise with house and moving services such as real estate agents, organisers, cleaners, movers, assist with services such as disconnecting power, phones etc, help engage financial and legal services and report to the family.

BEING THERE WHEN YOU CAN'T
We know it can be difficult to be there for your loved ones when they need help. We have busy lives and often families live away in different locations. At Dignity First we are there when you can't be, giving you peace of mind that your elderly loved ones are taken care of.
We help you employ private help, check in at home to see your loved one is ok, help following a hospital discharge, support person at appointments support person, organise household management.

OTHER HELP
If you need help for something we have not mentioned, contact us to discuss your needs.
Updated: 26 Aug 2021
Languages Spoken
Languages Spoken
Language
Status
Details
English
Yes
Updated: 8 Nov 2019
15025