Rest Home
Everil Orr Rest Home & Village
At a glance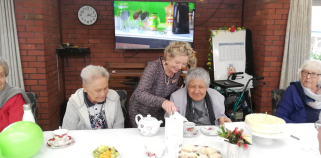 Vacancy

Yes

Name

Everil Orr Rest Home & Village

Category

Rest Home

Address

Everil Orr Rest Home and Hospital
55 Allendale Road
Mount Albert
Auckland 1025

Postal Address

Same as above

DHB

Auckland

Phone

Mobile

Email

Web
Personnel
Manager

Helen Saberton

Owner

Oceania Healthcare - 0800 333 688

Rest Home and Hospital Manager

Helen Saberton - 098152740

Village & Sales Manager

Merrin Gemmell - 0800 333 688

Administration rest Home and Ho

Sandra Anderson - 098152740
Other services

Located on a quiet street overlooking the stunning Waitakere Ranges, Everil Orr offers options for both aged care and retirement living, with one, two and two-plus-bedroom apartments for independent living, and a range of standard and premium care rooms.

Just like Mt Albert, Everil Orr is a welcoming and family-friendly community. From the smiley staff who greet you in the hallways, to the comfortable living spaces, you'll feel right at home. Our main lounge is a lively hub of activity. Follow the music and laughter to find a friend to chat to, or to join in the day's events. Or if it's peace and quiet you crave, relax in a comfy chair with a book in one of our many cosy nooks.

You couldn't ask for a more convenient location. Right around the corner from Mt Albert Village, you're spoilt for choice with a range of cafes and eateries. Lynn mall and St Lukes mall are less than 10 minutes away, as are the local pools and library. Enjoy high tea at historic Alberton house, or a paddle at Pt. Chev beach. You're free to come and go as you please and we encourage you to stay connected with family and community.

Your room is your own private space, so you can decorate it with your favourite pictures and ornaments. Standard rooms are large enough for a single bed, a chair and a wardrobe or chest of drawers. The cost of a standard room is included in the Care Services Fee set by the DHB. Premium rooms have additional features such as more space, an ensuite bathroom or outdoor access, but you'll need to pay an extra amount per day to cover the cost of these premium features.

We don't have visiting hours at Everil Orr because we know it's important you stay connected to your community. It's home, so friends and family can join you anytime for a cuppa and catch up. We're just around the corner from the Motorway, so it's a breeze for visitors to pop in, or get you out and about to local shops and cafes.

Activities
Hop in the village van for a jaunt, you'll never know where it will take you next. Hot chips on the ferry to Devonport, or off to browse the shops at Lynnmall, there's an exciting destination each week. We're always keen to explore so suggestion are always welcome, or if it's music you're in to, enjoy your own personalised playlist with I Love Music. Furry friends, family BBQs, competitive games and theme days, there's something for everyone no matter what you're interested in.

Food
Tender Sunday roasts, hot fish and chips and scrummy homemade puddings… there's a reason why we've won awards for our food! All of the above are regular features on our menu, which is packed with tasty family favourites you'd make at home. You'll be sure to be up for second helpings!

Award Winning Care
Great care is what we do and we've got the paper to prove it. Oceania's won multiple supreme awards from the New Zealand Aged Care Association, so you can be sure you're in good hands. When it comes to your care, you know what you like and don't like - and we want to know too. Because everyone is different all of our residents get a personalised care plan, so from meals to medications, everything that's important to you is covered.
Service/Facility Details
Service/Facility Details
Detail
Status
Contract with DHB
Yes
Certification
Yes
ORA Applies
No
Updated: 18 May 2021
Bed and Vacancy Details
Bed and Vacancy Details
Detail
Status
Approximate number of beds at this level of care
30
Vacancy
Yes
1premium
Impending vacancy
No
Premium Room Charges
Some Rooms from $15.00/day up to $22.00/day as at 17 Jun 2022
MOH Certification and Audit Report
View MOH certification and audit report (opens in a new tab)
Extra admission requirements due to COVID-19
Please enquire
Updated: 28 Jun 2022
Testimonials
Testimonials
I am a 87 year old widower having moved into care after living independently, I find this is the best decision I could have made. I am extremely happy, the caregivers are wonderful I couldn't ask for better the RNs are responsive to my every nursing and medical need and I have so much confidence in the Nurse Practitioner Karrie. Everyone is passionate about this home and what they do. Margaret and Alma did a fantastic job with organizing the Christmas party , a true family Christmas party. Everil Orr is a wonderful family. M.E .

Feb 2021
We would like to compliment the kitchen team for the care and attention to the Happy Hour refreshments-great creativity and flair TB

June 2021
Queens Birthday celebrations were great. Everyone had gone to a lot of trouble to dress up. Samoan dancing and language week and traditional food was well received. AP

March 2020
My father in law transferred from Whangarei. He raved about how wonderful it is and his first comment was "the food is great". Communication with the family was really tailored to them ST

June 2020
During lockdown staff have been extra professional. It is comforting to feel so secure in your care.

You gave my Mother such wonderful care and I loved the nice way staff spoke not only to the residents and families but to each other. My Mother enjoyed being here at Everil Orr- B.H.

March 2021
You made my sister so welcome. What a lovely place, so clean and staff lovely - B.C.

Nov 2020
I would just like to say I have had nothing but positive experiences with your facility. Your staff are both polite and helpful and reassuring. They take the time to talk to me, provide me with helpful information so that I can feel reassured that my Mother is getting only the best of care. I know she is being treated with respect and dignity and for that I am truly grateful - C.
Updated: 1 Jul 2021
Personnel
Personnel
Type
Hours Per Week
Status
Details
Registered Nurse
Yes
We have Registered nurses on duty 24 hours a day in both the hospital and rest home. This is complimented with our very experienced Clinical Leader who leads our clinical care team.Out of hours support is also provided for our nurses.
Nurse Practitioner
No
We can call upon the Nurse practitioner from ADHB for assistance should this be needed .
Healthcare Assistants/Caregivers
Yes
Health care assistants make up the largest number of our care staff. Training is provided and encouraged for all of our staff so they provide skilled, competent care with confidence and compassion. We have a multi cultural group of workers.
Physiotherapist
Yes
A fully qualified physiotherapist works on site each week on contract . Jill is also avaialbe to see residents following accidents for rehabilitation and remedial physio.
Occupational Therapist
Negotiable
The rest home is able to access the services of an occupational therapist for a resident if and when the need arises. This service is available at the residents own expense.
Social Worker (on site)
No
We do not have a resident social worker but we are able to access these services for a particular resident should the need arise . Our Manager, Clinical manager or Chaplain can direct you to appropriate service providers.
Activities Co-ordinator
Yes
We have an activities coordination team who work flexible hours so that events can be held during the day, in an evening or at the weekend. We have regular Happy Hours, birthday celebrations and outings, including visits to the mall.
Hairdresser
Yes
We have a hairdressing salon on site. Services are at the individuals expense but prices are kept as low as possible for your conveninece. Our small Village shop stocks a good range of hair products.
Podiatrist
Yes
We have a contracted podiatrist who visits our facility 6 weekly or more often. Charges vary according to the individual resident's circumstances.
Dietitian
Yes
A dietitian provides assistance for individual residents as required in conjunction with our Kitchen Manager. We have a summer menu and a winter menu that is dietician approved and audited to ensure we are able to provide well balanced nutricious meals.
Accredited Visitors
No
Should a resident express or we note would be beneficial for the resident we are happy to arrange a visitor from Age concern.
Kaumatua
No
As a joint venture site with Te Haahi Weteriana o Aotearoa Te Taha Maori we are able to access the Methodist Mission Minister and Kaumatua for support and guidance.
Chaplain/Spiritual Advisor
Yes
Our chaplain has an on site office . Jaanine is skilled in pastoral care and provides spiritual guidance for all stages of life. She leads regular worship services and is a support person at resident forums.
Other Personnel
Yes
We have a number of ethnically diverse volunteers who are involved in a range of activities. We warmly welcome anyone interested in volunteering to contact us.
Updated: 18 May 2021
Specialities or Areas of Expertise
Specialities or Areas of Expertise
Specialities or Areas of Expertise
Status
Details
Oxygen Management
Yes
Gastronomy/Nasogastric Management
Yes
Available on a consultancy basis as needed. Our staff are trained and familiar with gastronomy and nasogastric care.
Palliative Care (Contracted)
No
We are currently working alongside the Mercy hospice and The University of Auckland on the supportive Hospice and Aged residential care exchange program
End of Life/Palliative Care
Yes
The registered nurses and care staff receive in-service training on palliative care and Last days of life care. Our registered nurses are trained and experienced in the use of syringe drivers for effective pain management during the last days of life.
IV Antibiotic Capability
No
Could be negotiated.
Dialysis
Yes
We have trained staff who are familiar and confident with peritoneal dialysis. We work in close relationship with the dialysis unit in the hospital.
Wound Care
Yes
Available on a consultancy basis as needed. Trained and experienced staff in wound care management.
Diabetic Care
Yes
Available on a consultancy basis as needed. The registered nurses are trained and experienced in providing this care.
Continence Advice
Yes
Available on a consultancy basis as needed.
Stomal Therapy
Yes
Available on a consultancy basis as needed. Staff are trained and experienced to provide stoma care.
Stroke Rehabilitation
No
We do not hold the specialist stroke rehab contract; however we provide post stroke care for over 65 year olds and provide day to day functional rehabilitation support and care over seen by the physiotherapist.
Tracheotomy Care
Yes
Infection Control
Yes
Available on a consultancy basis as needed. Registered Nurse are is the Infection Control Officer for Everil Orr Village.
Surgical Followup
Yes
Available on a consultancy basis as needed.
Psychiatric Care
Yes
We work in conjunction with Mental Health Services for older people and also with Te Whetu Tawera , Mental Health service's, A.D.H.B..We are able to provide respite services for clients who do not require acute out patient care.
Clinical Management
Yes
Our Full time clinical manager, is an experienced registered nurse. She oversees all the clinical aspects in the facility and works closely with the facility manager who is also an experienced Registered Nurse holding an Advanced Diploma in Nursing.
Updated: 18 May 2021
Respite, Carer Support or other Short Stay
Respite, Carer Support or other Short Stay
Respite, Carer Support or other Short Stay
Status
Details
Respite
Yes
We are happy to offer respite care. This is however dependent on bed availability.
Carer Support
Yes
We are happy to offer carer support and other short term care. This is also dependent on bed availability.
Other Short Stay Programme
Yes
We provide ACC funded day stay.
Subsidised
Yes
Private Paying
Yes
We are able to provide private care whilst you are waiting to be assessed for permanent care; we can also offer private short stay care.
Booking can be made in advance
Yes
We are happy to take advance bookings so we can plan ahead with you.
Updated: 18 May 2021
Features
Features
Feature
Status
Details
May Bring Own Furniture
Yes
Residents are welcome to bring any pieces of furniture that will amke their room feel more like home for them. The exception is sometimes their own bed if this poses a safety risk to the resident or to our staff.
Single Rooms
Yes
Most of our rooms are single.
Shared Rooms
No
We do not usually place people in shared rooms. The exception is married couples wishing to be together in our larger rooms .
Rooms suitable for a couple
Yes
We have 2 rooms which can be shared by a couple if this is appropriate for them.
Ensuite
Yes
Some rooms have en-suites.
Alcohol Permitted
Yes
Alcohol is permitted this is your home.
Pets In Residence
Yes
We have several pets in residence including birds, cats, fish and a dog.
Negotiate To Bring Own Pet
Yes
We will consider all requests however we cannot accomodate all pets.
Phone Access In Own Room
Yes
This service is able to be provided at the persons own expense. Connection needs to be arranged by the individual or the family.We are happy to help steer you through the process.
Wifi
Yes
We have free WAN access.
Resident can adjust heating in own room
Yes
Heating is provided in each room and can be individually adjusted. Personal heaters are not able to be used.
Lounges/seating areas
Yes
There are several lounge areas and out door seating for residents and families to enjoy together.
Primary Health Funded Short Term Care
Yes
We are happy to provide transition care for PHC patients.This service is dependent on bed availability at the time.
Provide End of Life/Palliative Care
Yes
Our staff are experienced and competent to deliver palliative end of life care. We also work closely with hospice and palliative care services. Our chaplain is also experienced in proving palliative care support for residents and families.
Palliative Care Contract
Yes
We are able to take residents funded under palliative care.
Day Programme for day stay clients
Yes
We do offer day care services for individuals funded by ACC.
Outings
Yes
We offer twice weekly trips to the mall . We also offer other outings that are planned around the weather and external community events.
Whanau Room
Yes
The Whanau room has now doubled as a library, we also have a cosy café with toy box for children and this is a nice space for family to met.
Maori Kaupapa
Yes
Everil Orr Village has an established relationship with the local Manurewa Marae.
Residents Committee
Yes
Three monthly residents and family meetings are held, facilitated by our chaplain.
Family Committee
No
Families are invited to attend the residents meetings.
Newsletter
Yes
A monthly newsletter is provided to keep everyone up to date with happenings, upcoming events and changes.
Policy for management of challenging behaviour
Yes
Oceania has a robust policy for managing challenging behaviour. Training is provided to all of our staff so they have the necessary skills to act in the residents best interest safely.
Confused Residents
Yes
Our staff are trained and competent in looking after confused residents. However Everil Orr is not a secure environment and does not cater for residents requiring this containment for their safety.
Semi-Secure
No
Everil Orr is not a secure or semi-secure facility. However our staff do keep close track of our residents and their whereabouts to ensure their safety.
Updated: 18 May 2021
Special Features
Special Features
We enjoy beautiful views of the upper Waitemata harbour. The park like gardens are currently being redeveloped with the redevelopment of the site. We have a pleasant outdoor garden area.
There is lots going on and life to live , with new friends waiting to be met.

We have a large multi cultural staff who bring many good things to Everil Orr. It provides us with contrast and diversity as well as an ability to accomodate many different languages. Our staff are not only well trained and competent but bright, cheerful, happy and caring.

Our on site kitchen is able to provide lovely meals and snacks and to cater to everyones individual preferences and needs.
Updated: 18 May 2021
Interests & Activities
Interests & Activities
We encourage our residents to continue with activities already of interest and expose you to new activities.
We organise a varied programme and met residents requests for events and outings.
Residents have the opportunity of joining in with a group, getting together with a friend or visitor or spending some quiet time alone. The new Astley apartment team hold a monthly book lovers club , residents from the residential home are welcome to attend.
Books, games and movies etc. are left out for you to choose to use anytime.
I you are unable find what you are looking for amongst our planned activities or resources then let us know. You may be surprised with what we can come up with.
Updated: 18 May 2021
Additional Information
Additional Information
Topic
Details
What's included in your fees and what's not
Please refer to management or our office administrator for full details.
Staffing qualifications and details
Our kitchen is well staffed with trained competent cooks and chefs. Our menu is audited and planned by a dietician to ensure you receive a well balanced nutricious diet. Our dietician is available to consult on specific needs as required.
Details about meals
We have a Summer Menu and Winter Menu . The dietician planned and approved Menu is on a 4 week cycle.with no repetition during the 4 week period. We provide a vegetarian option at each meal. Individual preferences, choices, cultural considerations and needs are all catered for.
Associated Complexes
Everil Orr Village is built on a large site currently being redeveloped between the Methodist Mission and Oceania HealthCare. We provide rest home, hospital and independent apartment living.
Updated: 25 May 2021
Languages Spoken
Languages Spoken
Language
Status
Details
Afrikaans
Yes
Some of the staff are able to communicate in Afrikaans.
Arabic
Yes
Cantonese
Yes
Some of the staff are able to communicate in Cantonese.
Chinese
Yes
Some staff are Chinese.
Chinese dialect
Yes
Deaf Blind Sign Language
Yes
Some staff can speak sign language.
English
Yes
This is the most commonly spoken language.
Ethiopian
Yes
Some staff are Ethiopian.
Fijian
Yes
Fijian Indian
Yes
Some staff are Fijian Indian
Filipino
Yes
Hindi
Yes
Some staff are able to communicate in Hindi
Interpreter
No
We are able to access an interpreter if the need arises.
Japanese
Yes
Korean
Yes
Maori - Te Reo
Yes
Some staff can speak Te Reo.
Punjabi
Yes
Rarotongan
Yes
Some of the staff come from Rarotonga.
Samoan
Yes
Sign Language
Yes
some staff have a basic understanding
Sri Lankan
Yes
Tongan
Yes
Some staff areTongan
Updated: 18 May 2021
Religious/Spiritual Affiliations
Religious/Spiritual Affiliations
Religious/Spiritual Affiliations
Status
Details
Anglican
Yes
Christian
Yes
Inter denominational
Yes
Methodist
Yes
Presbyterian
Yes
Roman Catholic
Yes
The Roman Catholic Father visit their parishioners , we are happy to provide a quiet room for their visits.
Salvation Army
Yes
Are happy to visit their parishioners.
(Other comments)
Yes
This is an interdomination facility. People of all religions and faith or no religion or faith are welcome. We have a site chaplain who facilitates services and provides pastoral care to any in need.
Updated: 18 May 2021
Distances
Distances
Location
Distance
Details
Public Transport
0.30 Km
We are conveniently located 1 street away from the bus route.
Shops
0.00 Km
The Mt. Albert shops are approximately 500m away. We operate a shop in the facility 5 days a week .
Mall
2.50 Km
St. Lukes is the closest Mall. New Lynn Mall is approximately 6.5km away.
Parks
0.30 Km
Mt Albert park is within walking distance.
Library
Mobile library van visits fortnightly. We are able to arrange talking books for thos needing these.
Updated: 18 May 2021
Credentials & Membership
The Ministry of Health conducts regular audits of Residential Care Facilities. They can be found HERE.
291