Podiatry
Foot and Nail Services Ltd
At a glance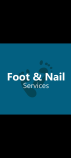 Name

Foot and Nail Services Ltd

Category

Podiatry

Address

57 Bradwell Crescent
Halswell
Christchurch 8025

Postal Address

Same as above

Region

Canterbury

Mobile

Email

Web
Personnel
Manager

Nancy Yates - 0220451091

Owner

Nancy Yates - 0220451091
Testimonials
Testimonials
Karrie Marie
'Totally recommend'

Rae Carlyon
'Highly recommend'

Beth Yates
' I can highly recommend Nancy's Services'

Nicola Ransome
Nancy was so lovely and managed to calm my nerves/ shame over my toes and made me feel super comfortable and " normal".
I would highly recommend.
Updated: 27 Jul 2022
Service Description
Service Description
Foot and Nails Services provides basic footcare from an experienced Registered Nurse.
Treatments include cut and file of fingers and toenails, treatment for fungal nails,
removal of ingrown toenails, removal of corns & callouses, treatment for callouses and dry heels.

Clinics held Monday to Friday.
No home visits available.
Can refer to RN footcare Nurses who provide this Service.
Updated: 28 Jul 2022
Suburbs/Districts/Towns Serviced
Suburbs/Districts/Towns Serviced
Christchurch and surrounding areas.
Updated: 13 Jul 2022
Meeting the needs of older people
Meeting the needs of older people
Foot and Nail Services was established to provide people with basic foot-care from a Registered Nurse. There is a real need for this in our Community and our aim is to provide a professional, safe and cost effective Service for our clients.
As we age nails thicken and can become increasingly difficult to cut and file. Extra care is needed particularly for diabetics and people using blood thinners to avoid any injury .
We can assist and offer regular care removing the worry for those unable to manage this themselves.
Corns, callouses and cracked heels can also cause real discomfort. Corns can be removed and callouses and cracked heels / soles treated to maintain comfort.
Fungal nails ( thickened, brown or yellow in colour) are very common and are treated with a cut and file of affected nail and treatment with antifungal spray.
Foot care is very important in maintaining mobility and independence.
Updated: 14 Jul 2022
Access
Access
Access
Status
Details
Easy access
Yes
Wheelchair access
Updated: 14 Jul 2022
After Hours
After Hours
After Hours
Status
Details
After Hours
No
Monday to Friday 9 - 5.30pm.
Updated: 14 Jul 2022
Payment
Payment
Payment
Status
Details
Payment required
Yes
Eftpos available
Subsidy may be available
Yes
WINZ
Updated: 14 Jul 2022
Languages Spoken
Languages Spoken
Language
Status
Details
English
Yes
Updated: 14 Jul 2022
Credentials & Membership
Credentials & Membership
Credentials & Membership RC
Status
Details
Police checked
Yes
Trade Registered
Yes
RGON 121401 APC exp 2023
Updated: 14 Jul 2022
Specialities or Areas of Expertise.
Specialities or Areas of Expertise.
Specialities or Areas of Expertise.
Status
Details
Community Health Nursing
Yes
Foot care
Updated: 14 Jul 2022
What's New
What's New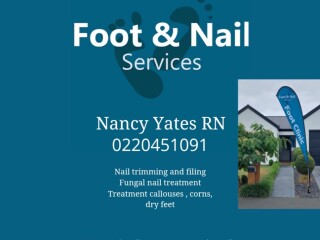 Hi folks,
Foot care is important to us all as we depend on those feet to keep us upright and independent! Any pain we experience possibly caused by overgrown nails, corns, cracked heels etc can make life more difficult and contribute to less mobility.
I'm not telling you anything you don't know!
As Registered Nurses we are working to get the message out to all and that is ' our hair grows and is regularly cut and so do our nails which sometimes aren't ' and 'personal care doesn't stop at the ankles!'.
As we age our nails tend to thicken which can cause pain from the pressure of a shoe on the nail effecting walking and everyday activites. This is prevented by regular cutting and filing of nails. Usually between 6-8 weeks depending on nail growth.
Nails can also become fungal. This condition thickens nails, can change nail colour to yellow / brown sometimes looks like tracks down the nail itself and damages nails making them crumbly. This can be treated with trimming back and filing of the nail or nails. Treatment is then completed with anti fungal spray for a period of time to kill fungus.
Corns and callouses can cause pain abit like walking on a small piece of shingle all the time. Removal is relatively simple and gives great relief. Walking and exercise can be enjoyed again!
As a Registered Nurse of 30 plus years I have real pleasure in seeing people having a better quality of life just by having regular, cost effective foot care.

If you struggle with cutting your own toe nails or have corns, callouses, cracked heels, fungal toe nails or just need regular nail trimming and filing please ring me and we'll arrange an appointment. I have over 100 regular clients and run clinics from my own home in a comfortable, relaxed environment in Longhurst, Halswell.


Updated: 28 Jul 2022
17429