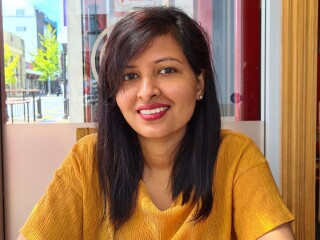 March 2021
SOUMY SAJU – ACTING CLINICAL MANAGER
We are delighted to announce that Soumy Saju has agreed to step into the role of Acting Clinical Manager of Tasman Rest Home until such time as a decision on a permanent appointment is made.
We extend our thanks to Simon Hamley for so ably filling this role in the interim.
Soumi has 9 years experience as a Registered Nurse in the Intensive Care Unit and Emergency Department in India and Saudi Arabia, and has strong clinical experience and interpersonal and communication skills. She completed her Competency Assessment Programme for International Nurses at Otago Polytechnic, Dunedin, and worked a part of her clinical placement as CAP Registered Nursing with the District Nursing Board, which allowed her to gain an understanding of community nursing and New Zealand work culture.
Prior to joining Tasman, Soumi worked as a Registered Nurse at our sister rest home Aberleigh in Blenheim, and is thus has a sound working knowledge of our policies, procedures and philosophy of care.
We join in congratulating Soumi on this key role with our organisation and wish her the very best as she takes on this new challenge, which is effective from 1 March 2021.
January 2021:
Introducing Sumy Saju
We are delighted to announce the appointment of Sumy Saju to the key role of Operations Manager here at Tasman Rest Home and Dementia Care.
Sumy has worked for Avonlea Dementia Care in Christchurch since 2017 as a Senior Caregiver, Home Manager and Health and Safety Representative. Sumy brings a Level 4 Qualification in Health and Wellbeing (Advanced Support), a bachelor's degree in Information Technology, and experience in business analysis to the role.
More importantly, her passion for aged care, hands-on experience in dementia, commitment to our Vision and Values, and leadership potential have identified her as a person with true potential to contribute to our organisation at a management level.
We are delighted that Sumy has agreed to relocate to Nelson and take on the Tasman operations management position.
We all join in extending our congratulations to Sumy as she moves into her new role, and wish her every success.
JUANITA AKAUOLA APPOINTED AS CLINICAL MANAGER:
Welcome to the Tasman family Juanita!
Juanita brings a strong clinical background to the position, as well as personal values which align closely with our organisational Vision and Values of honesty, integrity and open communication. Juanita's background includes delivery of holistic client-based care at Nelson Hospital, Wairau Hospital and for Nelson District Nursing Services and Maori Health Services, as well as experience in rest home and hospital environments as both a Caregiver and a Registered Nurse.
We join in congratulating Juanita on this key role with our organisation and wish her the very best as she takes on this new challenge.
We know you will stand together in support of Juanita and Corrine in continuing to provide stable, settled and loving support to our residents and their families as we move ahead into the new chapter of our lives here at Tasman.
Arah Cartagena
National Clinical Manager
January 2020:
We are delighted to welcome Corrine Coombe to the position of Operations Manager at Tasman Rest Home and Dementia Care

Corrine's professional background is varied, including experience in teaching, catering, graphic design and management. She brings a wide range of skills and interests to her new role, together with a passion for community involvement and a strong belief in the power of working collectively.

Corrine has been based at Tasman in an accounts role for the past eight years and is familiar with our organisation's Vision and Values and culture. She looks forward to working as a team to maintain a safe and happy environment where both staff and residents flourish.


November 2019:
A very warm welcome to the newest member of our team at Tasman Erika Olsen. Erika has joined Tasman Rest Home and Dementia Care as Operations Manager. Erika was drawn to the position by the values and philosophies of DCNZ. In her short time at Tasman, Erika has been impressed by the staff commitment to the wellbeing of the residents and their families and the loving, heart-centred manner in which they work. A former lawyer for vulnerable persons, mediator and volunteer , Erika is delighted to be part of DCNZ . Please pop in and introduce yourself to Erika as she would love to meet you.
October 2018:
Recently we had the wonderful opportunity to have the community activities organiser from Bunnings, Melanie Haymes, come on board with us at Tasman Rest Home and do something special for our residents. Melanie and our lead diversional therapist Aash arranged for residents, staff and family members to assist with an amazing garden project made possible by the donation of approximately $500 worth of flowers and gardening equipment by Bunnings Warehouse. We had a wonderful day together planting out all of the flowers and beautifying the outdoor environment of our home. Thank you Bunnings!
``
March 2018:
Easter is a special celebration for us here in our home. We love to enjoy loving time together and share memories evoked by the scent of fresh hot cross buns and the feeling of anticipation as we unwrap the first Easter egg.
We wish you all a safe and happy Easter with those you love.
As always, we welcome your visits and remind you that our visiting times are the same throughout the holidays.
March 2018:
Dance and movement are beneficial in many ways, and especially enjoyable along with good friends and laughter.
December 2017:
To our dear friends
It's the end of 2017, a time of reflection on the past year. As always, there have been many moments of joy, laughter, peace and wonder: what we call 'magic moments'. We are full of gratitude and would like to say thank you to you all. Thank you for encouraging us by being part of this online community. Thank you to the people who visit our homes - it is always lovely to see you. Most of all a very big thank you to those of you who share your family member or friend with us. It is a huge privilege to take care of the people who live here with us in their home. They are a wonderful inspiration to us and we love them dearly.
We would also like to say an enormous thank you to each and every member of our staff team. We appreciate you and value you so much. Thank you for everything you do.
We are grateful for the highs and lows, the challenges and opportunities this past year has brought. Thank you for being part of it.
September 2017:
The Alzheimer's memory walk is a yearly event organised by Alzheimer's New Zealand. This years memory walk in Nelson was held in Founders Heritage park. Founder's heritage Park is a museum which houses old original structures and replica buildings here in Nelson. A number of our residents and staff participated this year and had such a happy time together helping to raise awareness about dementia.
September 2017:
Aina Duro is our newest addition to the Tasman team. She is originally from the Philippines and brings with her a wealth of experience and passion for nursing. She especially enjoys interacting with the residents and making their day special. A huge warm welcome to you Aina!
July 2017 - They say 'if you don't use it you lose it'. This photo speaks for itself about how much we enjoy keeping on our toes and enjoying the stunning environment life in Tasman has to offer.
Our Piano - July 2016
We love having a piano available for family, friends, entertainers and residents. We especially love seeing our musical residents engage and enjoy the powerful medium of music. Music is one of the last things that we forget. It is so special to watch residents become so present in the moment, when they play our piano.
New website for Dementia Care NZ:

We have a wonderful new website and invite you to take a browse!