Home help & personal care
At a glance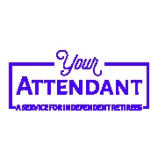 Name

Your Attendant

Category

Home help & personal care

Address

83 Hall Road
RD 2
Te Kauwhata 3782

Postal Address

83 Hall Road
RD 2
Te Kauwhata 3782

DHB

Auckland

Phone

Email

Web

Facebook
Personnel
Manager

Diane Daly - 027 4196930

Owner

Diane Daly - 027 4196930
Your Attendant provides a service for older people, enabling them to maintain their independence by simply providing a few hours help where and when you need it.
Testimonials
Testimonials
"Since I met Diane I've taken back control of my life. Her local lady, Jan and I spend two to three hours together each week and no two weeks are the same. Sometimes we do the shopping, work around the house, gardening, seeing to any repairs or just sharing a chat and a bit of a joke." Frances A, 76 yrs

"I've been quite unwell lately and Diane's been marvellous. I have so many appointments to attend and I can rely on her to always get me there, stay with me and get me home after. This is more than a service. We're friends. She's like a wonderful daughter! She even pops in free of charge each day, to visit me if I'm in hospital." Pat T, 81 yrs

"Life's wonderful living on my own, with a little help. I manage very well and when I can't, help is just a phone call away. Diane and her team just sort things out. If there's a query with a bill she deals with it. When something breaks down, she sees to fixing it. Just marvellous!" Chris D, 78yrs

"With no family nearby and no car, getting to and from appointments has been difficult and I don't keep the best of health. This wonderful lady is at the end of my phone and gets things I need, done! Quickly and efficiently. I don't know where I'd be without her." Stan, 88yrs
Updated: 13 Nov 2018
Service Description
Service Description
Our service is delivered on an hourly basis at a very reasonable rate and all travel to shops, appointments etc. is included. We'll help you maintain your independent life, so that you remain 'in charge'.

Our regular service provides a one-on-one block of time each week with remote support when needed. With our service you're the boss! You decide what you want to do and where we go. We just make it happen, effortlessly and enjoyably.

When you don't want to bother family or friends, call us. We're there for you, whenever you need us.
Updated: 24 Aug 2021
Suburbs/Districts/Towns Serviced
Suburbs/Districts/Towns Serviced
Central Auckland/Central/Auckland
Ellerslie/Remuera/Auckland
Epsom/Remuera/Auckland
Greenlane/Remuera/Auckland
Herne Bay/Central/Auckland
Market Road/Remuera/Auckland
Mirangi Bay/North Shore City/Auckland/
Newmarket/Central/Auckland/
Newmarket/Remuera/Auckland/
Parnell/Central/Auckland/
Parnell/Remuera/Auckland/
Ponsonby/Central/Auckland/
Remuera/Remuera/Auckland/
North Shore City/Glenfield/Auckland/
Milford/North Shore City/
Pukekohe/Ramarama/South Auckland
Pokeno/Northern Waikato
Te Kauwhata/Northern Waikato
Hamilton/Waikato


Updated: 13 Nov 2018
Personal Assistance
Personal Assistance
Type
Self Funded
Subsidised
After Hours
Registered Nurse (eg Wound Care, Medication)
No
No
Negotiable
Attendant Care (ACC)
Yes
No
Negotiable
Carer Support
Yes
No
Negotiable
Sitter Service/Companions
Yes
No
Negotiable
Other Therapists
Negotiable
Negotiable
Negotiable
Personal Care (Showering, Dressing)
Negotiable
No
Negotiable
Nail Cutting (Home Visits)
Yes
No
No
Updated: 24 Aug 2021
Domestic Assistance
Domestic Assistance
Type
Self Funded
Subsidised
After Hours
Meals (Frozen)
Yes
No
Negotiable
Meals (Fresh or Hot)
Yes
No
Negotiable
Home Help (Housework/Cleaning etc.)
Yes
No
Negotiable
Shopping Assistance
Yes
No
Yes
Transport Assistance
Yes
No
Negotiable
Updated: 31 May 2018
Languages Spoken
Languages Spoken
Language
Status
Details
English
Yes
Other Information
Yes
Other languages by arrangement
Updated: 30 May 2018
12978