Home help & personal care
At a glance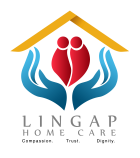 Name

Lingap Home Care Ltd

Category

Home help & personal care

Address

Auckland

Postal Address

PO Box 230244
Botany
Auckland 2163

DHBS

Counties Manukau, Waitemata, Auckland

Phone

Mobile

Email

Web

Facebook
Personnel
Co-Founder

Marovic Dolendo - (021) 1769768
Lingap Home Care is a company that provides non-medical home help and personal care to our ageing loved ones within the Auckland Metropolitan Area. Our purpose is to deliver RELIABLE and CONSISTENT service with COMPASSION, and alongside building of TRUST, will enable our ageing loved ones to live their later years with DIGNITY.
Testimonials
Testimonials
"Lingap is a boutique-style organisation providing exemplary care for (in my mother's case) the elderly. They came highly recommended and from the very first visit, I found them to be compassionate, professional and providing a very high level of care. My mother enjoyed the company of the day nurses who were always willing to do whatever was required for my mother. Later we employed Lingap for 'stay awake' care, and my mother felt very comforted to know that she was taken such good care of. I highly recommend Lingap as carers, and am very thankful that we were able to have access to such a fantastic homecare organisation."
- Esther H, from Glendowie

"Mum was a very strong, independent woman and when she became sick there was no question we needed to find home help so she could remain in her own home and keep her independence. We were so lucky to come across Marovic and her team of wonderful carers! Mum thought the world of Marovic, Jiel and Nazley and looked forward to their daily visits, and she was always full of praise for them. We found them very caring, empathetic, professional, kind and helpful. Nothing was ever a problem for them and it gave us peace of mind knowing Mum was being so well looked after. We would highly recommend Marovic and her team 100%."
- Wendy, daughter of Maureen from Northpark

"Retirement living was not for my mum so we hired the services of Marovic and Hazel to provide the extra layer of care for her. They have provided an intelligent, high level of companionship and an excellent support. Both are compassionate, empathetic, kind, patient, never in a hurry, extremely honest and reliable. They are integrated into our lives and are like family to us."
— Carolyn W, Remuera

"Marovic has attended my home as a companion on a regular/weekly basis. Throughout those 4 years, she has displayed an amazing ability to adapt to any situation and always shows great empathy and compassion, enabling a huge reduction in stress levels. She is a well-trained professional, thorough and dependable in all her undertakings, able to encourage, support and make a real difference in those who receive her assistance. I thoroughly recommend her service."
— Maria T, Bucklands Beach

"I have been a client of Marovic for a few years now as I did not want to go to a retirement village as I wanted to stay in my own home when my husband passed away. Being a diabetic with poor eyesight, Marovic assists me in showering, in doing light exercises, driving me to my errands, and sleeps over among others. She is efficient, intelligent, hardworking, capable, reliable, caring, pleasant, and works well with other people. I can tell she comes from a very good family. I cannot complain with the service she provides."
— Claudia B, St. Heliers
Updated: 16 Apr 2022
Service Description
Service Description
Home care support goes beyond provision of care and assistance. It is a mutually beneficial relationship that enables the elderly to continue living a quality life in the comfort of their own homes. Care normally takes place within the home setting but can also be in independent or assisted-living facilities.

Our goal is for the elderly to be able to enjoy life while keeping their most valued assets.

Our services are tailored based on our clients' needs and goals.

1. Home Help and Personal Care

This is an ongoing service which essentially involves assistance with the following basic and instrumental activities of daily living.
Personal care covers:
- Showering
- Dressing,
- Toileting
- Grooming
- Oral care

Home help provides:
- Assistance in light housekeeping duties
- Assistance in meal preparation
- Assistance in planning appointments and social activities
- Companion driving to do grocery shopping, attend medical appointments, salon visits/ hair appointments
- Companionship support in doing the following:
* Hobbies or preferred forms of entertainment
* Performing light and appropriate exercises
* Visiting family members or friends to keep them abreast of their loved one's condition
* Reminding client (Not Administering) of their medication

2. Elderly Sitting

Elderly sitting is an on-demand service where a well-trained compassionate companion can assist the elderly for a short period of time while the regular caregivers are away, engaged, or having respite.

3. Overnight Care

Overnight Care is where the Lingap companion is available to assist low-dependency clients in their homes throughout the night if necessary but may otherwise sleep. This service generally starts from 9pm through to 7am. It cannot exceed 10 hours.

A bed and access to a bathroom need to be provided in the client's home for the companion.
Updated: 16 Apr 2022
Suburbs/Districts/Towns Serviced
Suburbs/Districts/Towns Serviced
Auckland Metropolitan Area
Updated: 27 Aug 2021
Personal Assistance
Personal Assistance
Type
Self Funded
Subsidised
After Hours
Carer Support
Yes
Yes
Yes
Sitter Service/Companions
Yes
Yes
Yes
Personal Care (Showering, Dressing)
Yes
Yes
No
Updated: 16 Apr 2022
Domestic Assistance
Domestic Assistance
Type
Self Funded
Subsidised
After Hours
Meals (Frozen)
Yes
No
No
Assistance in meal preparation
Meals (Fresh or Hot)
Yes
No
No
Assistance in meal preparation
Home Help (Housework/Cleaning etc.)
Yes
Yes
No
Light housekeeping
Shopping Assistance
Yes
Yes
No
Transport Assistance
Yes
Yes
No
Updated: 16 Apr 2022
Languages Spoken
Languages Spoken
Language
Status
Details
English
Yes
Filipino
Yes
Updated: 27 Aug 2021
14757