Formal groups & organisations
Cancer Society of Auckland and Northland
At a glance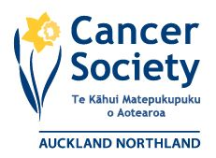 Name

Cancer Society of Auckland and Northland

Category

Formal groups & organisations

Address

Domain Lodge
1 Boyle Crescent
Grafton
Auckland 1023

DHBS

Auckland, Northland

Phone

Email

Web

Facebook
Media
Map
Downloads
Reviews
Given the current COVID-19 environment we have temporarily disabled our 'feedback' feature. We apologise for any inconvenience.
Service Description
Service Description
We are here to help and support you and your whānau through cancer diagnosis, treatment and recovery.

Support Line -

We know that going through cancer is tough and can raise many questions.

The Cancer Information Helpline is a free service available to people with cancer, their family/whānau, the general public and health professionals. Experienced Cancer Support Nurse Specialists are available to answer your call or email on any cancer-related question, in confidence and in easy-to-understand language.

For answers, support or just a chat, call us free on 0800 CANCER (226 237) Monday to Friday, 8:30 am – 5:00 pm.

One on One Support –

Our Community Nursing Service is staffed by experienced Cancer Support Nurse Specialists in Auckland and Northland, who visit and phone you at home to give you practical information and support. Cancer Support Nurse Specialists can offer support to you and your family/ whānau if you have been recently diagnosed, are receiving treatment for cancer, and following treatment.

Cancer Support Nurse Specialists cover the whole of the Auckland and Northland region. We also have nurses working in partnership with organisations such as the Primary Health Organisation and Māori Health Providers in Northland.

If you or a loved one has cancer, our support team can help you with:
• understanding the type of cancer and the treatment you may have
• managing the cancer symptoms and treatment side effects
• explaining the hospital system and what you can expect
• listening to the concerns and questions that are most important to you and your family/whānau and working with you to find solutions
• talking to other health professionals involved in treatment to help your care go smoothly
• referring you to other Cancer Society support services
• finding other useful services that will help you
• practical problems, like getting to treatment and benefits you could get

Psychology and Counselling –

Getting a cancer diagnosis can be hard. It is common for people to experience a range of emotions in response to a cancer diagnosis. Cancer Society psychologists have specialised skills and experience to assist you and your family/ whānau to cope during this time.

We have free counselling and psychological services for people with cancer and their family/whānau.

We can help you discuss the impact of a cancer diagnosis on your relationships and exploring effective ways of support through this time. We offer one-on-one and group sessions for anyone affected by cancer, including family/whānau members. If you've just received a cancer diagnosis, are currently having treatment or your treatment has finished, we're here to help.

Webinar Series: We also offer cancer support talks online via Zoom, Thursdays 10:00am-11:30am, on a fortnightly basis. Learn strategies to help you cope with the impact of cancer from the comfort of your own home. Webinars run at COVID Alert Levels 2, 3 & 4.

Accommodation –

We understand that a lot of people undergoing cancer treatment need to travel to hospitals in larger cities. We aim to provide you with a home away from home so you can focus on your treatment.

Domain Lodge is a modern, self-catering accommodation facility owned and operated by the Cancer Society Auckland Northland. It provides a comfortable and restful environment for people who live outside the Auckland region who must travel long distances (i.e., over 100 kms) to receive treatment and cancer care in Auckland.

People undergoing treatment are welcome to bring one support person (over the age of 18) with them for their stay. Set in beautiful gardens, Domain Lodge is conveniently situated near Auckland City Hospital. Public transport, shopping, entertainment and the pleasant open space of the Auckland Domain are close by.

The atmosphere is friendly and relaxed, and guests are welcome to come and go as they please. While priority is given to people with cancer, Domain Lodge accommodation is also open to the public. Income earned from these guests helps us provide fully subsidised accommodation for people with cancer

Transport to Treatment –

We know that when you are undergoing cancer treatment, getting to your appointments can be difficult; our free driving service may be able to help.

The Cancer Society Driving Service coordinates a team of trained volunteer drivers who can help get you to and from your treatment. Cancer Society volunteers will pick you up from your home and return you after your treatment-related appointment.

All drivers undergo a recruitment process which includes interviews, police checks, orientation and ongoing training. The Driving Service provides transport to those who need it most, including those who are socially isolated, financially constrained and have no other means of transport.
Updated: 8 Oct 2021
Description
Description
Since 1929 Cancer Society has existed to support people with cancer and their family/whanau. The Cancer Society of New Zealand is made up of six regional divisions. Cancer Society Auckland Northland is the largest regional division, serving more than one third of New Zealand's population from our Cancer Society offices at Domain Lodge in Auckland and Daffodil House in Whangarei.

We provide emotional and practical support for people affected by cancer, we invest in lifesaving cancer research, and we advocate tirelessly on behalf of all New Zealanders for policies that reduce the risk of cancer, improve cancer care, and create environments where communities can make positive choices about their health.

Cancer Society Auckland Northland is a registered charity, we receive no direct government funding and are reliant on the commitment and generosity of donations so that we can provide services free of charge to people affected by cancer.

He Ringa Āwhina – We are here for All people. Every cancer.
Updated: 8 Oct 2021
What's New
What's New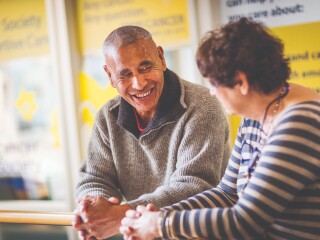 On 12 November 2021, the Cancer Society organised a webinar with Professor Ross Lawrenson about PSA testing for prostate cancer.
Prostate cancer is the most common cancer in men in New Zealand. There is no prostate cancer screening programme, but the Prostate-Specific Antigen (PSA) test is commonly requested by a man or offered by a doctor.
The PSA test is not a perfect screening tool, and its use can lead to over diagnosis and unintended harms for some men. That is why the Cancer Society recommends that men without symptoms discuss the pros and cons with their doctor before deciding to get a test or not.

Ross Lawrenson is Professor of Population Health at the University of Waikato and Population Advisor, Strategy, Investment and Transformation at Waikato District Health Board. He is a Board member for PHARMAC. He has done research on improving health care outcomes through primary care and published more than 200 papers on diabetes, cardiovascular disease and cancer.
Watch the webinar here - Cancer Society NZ — Webinar PSA Testing for prostate cancer
Updated: 22 Nov 2021
17105