Downsizing & moving home
Seniors Real Estate Specialist
At a glance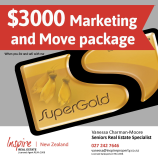 Name

Seniors Real Estate Specialist

Category

Downsizing & moving home

Address

84 Echo Valley Way
Tauriko
Tauranga 3110

Region

Bay of Plenty

Phone

Mobile

Email

Web

Facebook
Personnel
Seniors Real Estate Specialist

Vanessa Charman-Moore - 027 2427646
Vanessa offers unique value for those looking to move to a smaller property, with specialist knowledge about the Seniors Real Estate market. A combination of help with searching for your ideal property, a 10% Seniors discount, or a marketing and move management package takes the pressure off you during this time. Most importantly, Vanessa is happy to invest time in helping you to understand the latest sales process and working through the natural challenges associated with moving, at your pace.

Vanessa's aim is to provide a service that Seniors value and she achieves this with an extensive range of skills accumulated over a 30 year career in marketing, professional project management and property. Vanessa has the skills, local contacts and caring attitude to help you through this busy and sometimes challenging time.

If you need help with something specific such as searching the internet for new properties, transport to visit downsizing locations such as lifestyle villages, or would like a current property market appraisal then give Vanessa a call - she'll be delighted to hear from you.
Testimonials
Testimonials
Vanessa took on the sale of our house just before level 4 arrived.
We had only had one open home when this happened.
She worked very hard behind the scenes through these trying times, and kept us up to date and informed.
The house sold quickly (for the price we were hoping for) as we moved down the levels.
I recommend Vanessa for this and her good communication and trustworthiness throughout.

Regards Kim Copestake
Updated: 17 Feb 2021
Service Description
Service Description
Vanessa offers a value-added real estate service created for Tauranga's Seniors. Included in Vanessa's real estate service is a Seniors real estate information pack, property appraisal, property search and when you list and sell with Vanessa you receive either a 10% discount or a $3000 marketing and move management package to help smooth the process of selling and moving to a new home!
Updated: 31 Aug 2021
Suburbs/Districts/Towns Serviced
Suburbs/Districts/Towns Serviced
Tauranga and Western Bay of Plenty
Updated: 11 Jan 2021
Meeting the needs of older people
Meeting the needs of older people
Do you find the complexities of Seniors Real Estate such as deciding whether to move to a lifestyle village, selling your home or starting the decluttering process a bit overwhelming? If you do, then Vanessa has dedicated herself to understanding the Tauranga Seniors Real Estate market and collecting the best local resources available to give you a head start. Give Vanessa a call, or take a look at www.seniorsrealestate.co.nz
Updated: 2 Sep 2021
After Hours
After Hours
After Hours
Status
Details
After Hours
Yes
9am - 6pm Monday to Sunday
Updated: 2 Sep 2021
Access
Access
Access
Status
Details
A mobile service
Yes
I will visit you at your home and can transport you to view properties of interest if you wish.
Updated: 2 Sep 2021
Payment
Payment
Payment
Status
Details
SuperGold Card Discount
Yes
10% discount off standard sales fees or a $3000 marketing and move package on the successful listing and sale of your house.
Free
Yes
Free Seniors Real Estate information pack, free property appraisal, transport to lifestyle villages or homes of interest
Updated: 2 Sep 2021
Languages Spoken
Languages Spoken
Language
Status
Details
English
Yes
Updated: 2 Sep 2021
15626