Downsizing & moving home
At a glance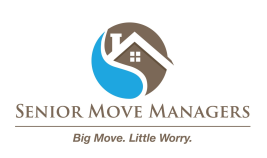 Name

Senior Move Managers

Category

Downsizing & moving home

Address

Home office
59 Garlands Road
Woolston
Christchurch 8023

DHBS

Canterbury, Auckland, Counties Manukau, Waikato, Bay of Plenty, Hawke's Bay, Capital & Coast, Hutt Valley, Nelson Marlborough, West Coast, Canterbury, South Canterbury

Phone

Email

Web

Facebook
Other services
Media
Map
Downloads
You need Adobe Reader to view PDF files.
Preview
File
Description
Downsizing Guide

If you don't know where to start, you've come to the right place!

We have created a simple downsizing guide with helpful tips of how to declutter, sort & organise your home. We hope you find it helpful :-)
Reviews
Given the current COVID-19 environment we have temporarily disabled our 'feedback' feature. We apologise for any inconvenience.
Senior Move Managers have helped thousands of families move into their new home.
As we specialise in working with Seniors, we know and understand the difficulties surrounding such a significant move.

Our clients often ask us how we make this process so straight forward and simple. In reality, it comes down to the planning and preparation done by our experienced teams across New Zealand.

Every move is different, and every situation is unique, but with Senior Move Managers, we make it our mission to make your next move your best move!
Testimonials
Testimonials
"Very grateful to be able to use Senior Move Managers. They were very fast, efficient and helped with decisions about what to take and what to throw away. It was a lot less stressful for me. The team did everything we asked of them and nothing was a problem for them.
We found by engaging SMM the whole exercise was far less stressful than it could have been. We were very grateful for that."
- Julie

"The people were very patient as they had a good grasp on how difficult it is when faced with having to move a lifetime of possessions to a house half the size. Physically and emotionally. They were very supportive and accessible all through the process."
- Judy & Murray

"Everything was done to an extremely high standard, and nothing was too much trouble. From the packing before the move, to the care setting up, and finally, the after care service of taking away and removal of unwanted items, the overall experience was exemplary. "
- Betty & Dennis
Updated: 23 Mar 2021
Service Description
Service Description
Making your next move your best move.

One of the common and logical options as you age is to downsize from your larger home to a property more manageable. The garden may have become too difficult to maintain, you have too many empty bedrooms, or you may be struggling with the stairs – whatever the cause for concern WE are here to assist you through the process.

Our team will assess your home; construct floor plans, sort furniture, bedrooms and living space to help begin the downsizing process. We pack and supervise the transport of all items so you can take the day off, to return later in the afternoon and everything is done for you. As you transition into your new home, the team will help design the floor plan of your new property (in consultation with you) as well as have everything set up and ready to go by the time you move in. This process includes having all your furniture in the correct spots, cutlery in the drawers, television and phone set up, linen in the cupboards, right down to having the beds made up and the jug boiled, ready for a hot drink when you arrive.
Updated: 12 Oct 2018
Suburbs/Districts/Towns Serviced
Suburbs/Districts/Towns Serviced
Canterbury, Auckland Region, Bay of Plenty, Waikato, Wellington Region, Hawkes Bay, Nelson Region, Marlborough and soon Northland & Central Otago
Updated: 10 Nov 2021
Meeting the needs of older people
Meeting the needs of older people
Downsizing from your family home to a smaller house can be daunting, that's why we specialise in assisting older adults with a complete moving package that we tailor to your needs.
Updated: 9 Nov 2021
Payment
Payment
Payment
Status
Details
SuperGold Card Discount
Yes
Payment required
Yes
Subsidy may be available
Yes
Updated: 10 Nov 2021
Languages Spoken
Languages Spoken
Language
Status
Details
English
Yes
Updated: 9 Nov 2021
Credentials & Membership
12395