Downsizing & moving home
At a glance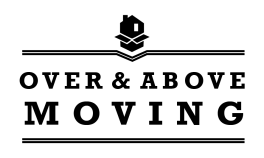 Name

Over & Above Moving

Category

Downsizing & moving home

Address

36a Harbour Drive
Tauranga
Tauranga 3144

Postal Address

PO Box 15524
Tauranga 3144

DHBS

Bay of Plenty, Bay of Plenty

Phone

Mobile

Email

Web
Over & Above Moving are Professional Organisers and Move Management Specialists. We can help whether faced with the challenge of clutter in the home, downsizing, preparing a property for sale or managing on behalf of a senior family member. We specialise in Estate Clearance.
Testimonials
Testimonials
Bayswater to Auckland
"Faced with moving Mum into care was difficult. Over and Above Moving were there to help sort, relocate, recycle, arrange transport and clean her apartment. They were there when needed and provided a fast, efficient, cheerful and positive service. Nothing was too much trouble. At a time when exhaustion had overtaken life they were really helpful, caring and empathetic. Over and Above are highly recommended for any moving, sorting and decluttering, especially when the task just seems overwhelming. Such an amazing service! "
Angela
July 2017

Margaret from OVER & ABOVE and their team helped my uncle move to assisted living. They arranged his bedroom so that when he woke, his gaze met the same bookshelves, books, souvenirs, and family photos he had first seen when he awakened in the family home of 20 years ago just yesterday. The living room was set up with his recliner, TV, pictures, and ornaments. He felt immediately at home, and it especially helped keep him oriented through mid­stage Alzheimer's.

Trudie McM

We needed assistance to move to Copper Crest in Tauranga. Although we felt "under control", my wife had recently become quite unwell and was struggling to physically work through sorting out downsizing our 4 bedroom family home to shift into our new 2 bedroom townhouse. Margaret worked patiently, with thought and compassion to sort through the kitchen and sundry cupboards. She also had lots of suggestions on how we could dispose of many items and arranged not only the movers, but second-hand dealers to take furniture, Waipuna Hospice to collect items and rubbish disposal. When we arrived at our new destination, she was there to help organise the furniture and unpack. Thank you.
Mr & Mrs N
Oct 2016

When I was to move to Hodgson House, I tried to pack all my things myself but I was so tired a week out from the move and realised I hadn't achieved very much at all. And then, I heard about Margaret from Over & Above Moving. When I phoned her she came immediately. During that initial consultation she put my mind totally at rest. A week later I walked into my new unit at Hodgson House and it was just beautiful. The bed was made, the kitchen was all in place, the TV had been connected and the pictures were hung on the wall. There was even flowers on the table. I can't recommend her services enough.
Louisa M
Oct 2016

My father passed away in Tauranga late in 2016 and as the family were mostly based in Auckland, we were struggling to work out what and who was going to tidy up his unit at Althorp Village. Several people had recommended Over & Above Moving and it seemed the services were what we were looking for. Margaret arranged a team of people to arrive and sort through the belongings. There were personal items that Margaret helped us work through with sensitivity. This included shipping quite a few items of furniture and memorabilia to family members in Auckland and Wellington, organising movers, items to go to charity, disposing of rubbish and all this completed in two days. It was such a relief!
WB
Updated: 12 Sep 2017
Service Description
Service Description
Margaret and her team of caring professionals have recent personal experience helping senior family members downsize or move.

They understand the the pressure of being out of region, being busy with work and other commitments, but wanting to do the very best for our loved ones.

With the gentle and expert guidance of an experienced Over & Above Moving director, clients and families are able to make the key decisions about their move without emotional and physical stress.

Over & Above Moving will handle the details of planning and implementing including any or all of the following:
¥ Decluttering, organising, sorting, downsizing
¥ Cataloging all possessions
¥ Arrange any unwanted items to go to the charity of your choice
¥ Home Staging ready for sale
¥ Packing your possessions with care
¥ Provide a choice of movers, handymen, cleaners
¥ Scheduling and moving day management
¥ Unpacking and setting up the new home
¥ Clean the vacated property
¥ Estate Clearance Specialists

We work with you at your own pace, to sort through your belongings and make decisions about what to keep, donate, discard or give to family members.
Updated: 12 Sep 2017
Suburbs/Districts/Towns Serviced
Suburbs/Districts/Towns Serviced
Tauranga

Bay of Plenty

Waikato
Updated: 12 Sep 2017
12408