Downsizing & moving home
At a glance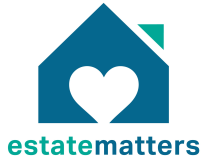 Name

Estate Matters LTD

Category

Downsizing & moving home

Address

37 Wiremu Street
Redwood
Christchurch 8051

DHBS

Canterbury, Canterbury

Phone

Mobile

Email

Web

Facebook
Personnel
Owner

Phillipa Smith - 0223405045

Owner

Rachel Maule - 0223405045
Canterbury owned since 2015, Estate Matters is a dispersal and downsizing service. We work with family members, estate executors, trustees or solicitors to catalogue, sort and disperse items according to the family's wishes.
Testimonials
Testimonials
22 September 2017


TO WHO IT MAY CONCERN

RE: ESTATE MATTERS

We are a Firm of Solicitors who have used the services of Estate Matters, Rachel Maule and Phillippa Smith on a number of occasions.

We have always found the issues attended to by Estate Matters to be completed in a professional, courteous and timely matter, and with very little input from ourselves other than clear instruction.

To date they have assisted us in the clearance of a number of estate house properties, enabling them to be ready for sale and have also cleared out chattels so the property is ready for sale where our clients have occupied Rest Homes.

We would have no hesitation in recommending their services to other Solicitors, Estate Managers, Professional Trustees and families who require these sort of services.

I can be contacted for a personal reference if necessary.


Yours faithfully
HELMORE AYERS

Peter O'Dea
Partner


Phone 0064 3 366 5086 Postal PO Box 8370, Riccarton, Christchurch 8440
38 Birmingham Drive, Middleton, Christchurch 8024, Email: lawyers@helmores.co.nz, www.helmores.co.nz

To whom it may concern,
When the time came for my mother to sell her house and relocate to a retirement home, I wasn't sure how we were going to manage things. We were working to a tight timeline, and as I don't live in Christchurch and had only a limited local knowledge, I wasn't sure how we were going to get everything done. Enter Estate Matters! Rachel and Phillippa organised everything to make sure that we got things done at the right time, from getting mum moved and settled in her retirement home, to clearing the entire house and giving the place a thorough clean. We couldn't be happier with the way the whole operation was handled. I was really impressed with the care they took to understand what it was we wanted, and then worked with us every step of the way to execute the plan.
Rachel and Phillippa earned our confidence and trust right from the start with their professionalism and made a difficult situation, which could have been a nightmare for us, very very easy in the end. I have no hesitation in recommending Rachel and Phillippa and the services of Estate Matters.
Yours faithfully, Roger Smith – October 2017

Testimonial – August 2016

When confronted by a large estate of an elderly woman with no immediate family in town and a co-executor who lived in the North island, it all seemed "too hard" until I made contact with Estate Matters

Her unit was cleared out and her personal chattels in storage (there were large numbers of these) were checked, listed, photographed where necessary; and when decisions had been made they were disposed of or sold in accordance with family instructions

The process was easy, done with good attention to detail and with great transparency – and even when the instructions from the executors were difficult, Estate Matters happily fitted in with those instructions and made everything work. It saved hours and hours of time for the executors; and even if there had been local family, Estate Matters would have provided a lot of help for them too. This is a service we will be using again…

Philip Sewell, Partner, 03 367 2681

Rachel and Phillippa of Estate Matters project managed getting my parents' Christchurch property ready for sale following my father's death. As I am not based in Christchurch it would have been much trickier for me to personally source and coordinate all the activities that needed to be undertaken. Commissioning Estate Matters meant that they did much of the work required, including engaging and coordinating contractors, cleaning the property, and disposing of items through an auction house and charity. As a consequence, we were able to get the property on the market within a week of work commencing on the house, and the house sold five weeks later. Rachel and Phillippa are very hands on, diligent and hardworking, and provided some really good advice."
Nigel Royfees – 19th March 2019

We recently used the services of Estate Matters and I can't recommend their services highly enough. I felt overwhelmed and daunted at having to deal with sorting out Mums things and getting her house sale ready as she moved into a rest home. Having to do all of this from a great distance whilst juggling a young family and a full time job only made everything feel more difficult. Rachel and the Estate Matters team saved the day. They were kind, professional and efficient. Nothing was too much trouble. I am so grateful for Estate Matters.
Nicole Smith – September 2019 – 021 414 621

"We were fortunate to be given Estate Matters' details when my mother moved into a retirement village. Dealing with Phillipa and Rachel was a real pleasure. They were remarkably efficient in everything from initial discussions, to job scoping, dealing with the lockdown restrictions and making new plans that were then required. They have contacts for things that we would never have known about which made life so much easier. When they finished, the house looked great. I would thoroughly recommend them to anyone in the position of having to clear a property."

Thanks again and best regards,
Graham Down – May 2020

Always a pleasure to work with this professional, hardworking team. Their integrity is second to none and we have only ever heard clients speak positively and highly. We thoroughly recommend this team if you need help in sorting your property.

Sally Stewart – Glass Miles Real Estate - May 2019

I would like to thank you both for jobs well done regarding the estate of my family member in Christchurch. The work you undertook was performed promptly, efficiently and in a most professional manner and above all expectations. Also, the work done by your subcontractors was of a similar nature. I have had no hesitation in recommending you to the lawyer who has been handling the estate.
Mike Mason - August 2020

Rachel and Philippa are the dream team! In about 20 hours over a 3-day period, they sorted, stripped and cleaned our old house ready for a tenant to move in. Friendly, professional service, efficiency, and integrity second to none.
Fran Pashby-July 2020

I would highly recommend Rachel and Phillippa. From the outset, they were professional with excellent communication through every step of the process. They were extremely efficient and went out of their way to make the process stress-free. Thank you for the respectful way you dealt with clearing the house and it looks immaculate. I could not have asked for a better service.
Amanda Graham - August 2021
Updated: 29 Aug 2021
Service Description
Service Description
Rachel and Phillippa have been working with Canterbury clients since 2015. Using our knowledge and professionalism, we disperse the household items from the estate, whether they are relocating to retirement accommodation or deceased estates.

We prepare the house for sale in a timely way, and with an eye to maximizing value. We are happy to provide you with an obligation-free estimation of our costs, including the timeframe involved.

Once all parties are agreed to the services they would like Estate Matters to carry out, a contract will be signed between ourselves, the estate trustees, and the solicitor.

Estate Matters can:
• Meet with you for a free initial consultation to discuss and determine how you wish to proceed.
• Provide you with a free no-obligation estimate.
• After the family has determined which items will be kept, we can a catalogue of all the household items required to be dispersed
• We can arrange transport of estate items to family members either locally, nationally or internationally.
• We can arrange a professional appraisal and valuation of any antiques or collectibles.
• Any unsold items we will donate to charity, recycle, or otherwise dispose of
• We will dispose of any household items that are unable to be sold or recycled.
• The home - including the carpets – can be cleaned, the gardens tidied, and the house is prepared for sale.
• We can arrange for a handyman to make minor repairs to the house, or a painter to freshen up the home.
• We can arrange packing and transport of household items for people downsizing their home.
• We liaise with real estate companies of your choice or we can make recommendations.

Please call or email Rachel or Phillippa to discuss your situation, we are here to help
Updated: 29 Aug 2021
Suburbs/Districts/Towns Serviced
Suburbs/Districts/Towns Serviced
We cover the greater Christchurch Region, which includes Ashburton, Culverdon, Kaiapoi, Rangiora, Lincoln, Rolleston areas.
Updated: 29 Aug 2021
Meeting the needs of older people
Meeting the needs of older people
Phillippa and Rachel have been working with older people transition from their family home into Retirement living. It can be overwhelming at first but with our experience, we can make the move stress free. We have been meeting the needs of older people since 2015.
Updated: 29 Aug 2021
After Hours
After Hours
After Hours
Status
Details
After Hours
Yes
Please call 0223405045 or 03 3546011.
Updated: 29 Aug 2021
Access
Access
Access
Status
Details
A mobile service
Yes
We will come to your house for a free estimate.
Easy access
Yes
Updated: 29 Aug 2021
Payment
Payment
Payment
Status
Details
Payment required
Yes
Free
Yes
We provide a free estimate and scope of work.
Updated: 29 Aug 2021
Languages Spoken
Languages Spoken
Language
Status
Details
English
Yes
Updated: 28 Jun 2018
12886