Dementia
Admatha - Dementia Care NZ - Admatha Home Awa and Admatha Home Tai
At a glance
Vacancy

Yes

Name

Admatha - Dementia Care NZ

Category

Dementia

Address

34 Averill Street
Richmond
Christchurch 8013

Region

Canterbury

Phone

Fax

Mobile

Email

Web

Facebook
Personnel
Manager

Clinical Rona Mendoza - Operations Debra Fairhall - (03) 3851286

Owner

Jim Haines and Alison Hume - (03) 3851286
Other services

We are open and accepting admissions!

We invite you to discover the unique character of Admatha, a part of Dementia Care NZ.

You will discover a home with a unique atmosphere and a team with exceptional qualities.

We give very special care to people with dementia.

Dementia Care New Zealand is one of New Zealand's highly regarded aged care providers.
We provide a full range of residential care including general rest home care, dementia rest home care, general hospital level care, and dementia hospital level care. At many of our facilities, a full continuum of care is available.
We specialize in person-centred care for people who live with dementia. This is the work we have passionately chosen to do.
We care for people in small, cosy homes with a loving, warm and homely atmosphere where each person is supported to experience each moment richly. Our small homes concept means that people with dementia experience life in a less clinical and more normalised, familiar way. Small homes that inter connect, also bring a sense of 'community' for a person with dementia.


OUR VISION
To accept all people with kindness and love
To provide peace, comfort and joy
To be proactive, innovative and courageous
To enrich each person, the community and the world

OUR VALUES
We strive to achieve this vision by working
with openness, honesty, integrity and passion

THE WORK WE DO
We establish trusting relationships based on
respect and acceptance
We encourage people's participation in
companionship-based care in their small homes
We are privileged to accompany people as they
journey towards the end of their life
We welcome family/whanau and the wider
community as integral to people's lives
We promote inclusion and the rights and
values of each person
We celebrate unity in diversity
Service/Facility Details
Service/Facility Details
Detail
Status
Contract with DHB
Yes
Certification
Yes
ORA Applies
No
Updated: 11 Mar 2022
DHB Respite Care Booking Service
DHB Respite Care Booking Service
We provide DHB Respite Care Booking Service.
Bed and Vacancy Details
Bed and Vacancy Details
Detail
Status
Approximate number of beds at this level of care
30
Vacancy
Yes
We currently have 1 vacancy at Admatha Dementia Care. Although we have 30 beds at Admatha, they are separated into two smaller homes of 13 and 17 people. Please see our comprehensive web site for more information about Admatha. www.dementiacarenz.co.nz. We can also offer respite care if we have a room available at the time you are requiring care.
Impending vacancy
No
Premium Room Charges
No
MOH Certification and Audit Report
View MOH certification and audit report (opens in a new tab)
Extra admission requirements due to COVID-19
Unknown
Updated: 11 Aug 2022
Testimonials
Testimonials
Admatha – Fulfilling Their Vision

May 2018

Our lives suddenly changed when a hospital specialist told us, "Your husband/father will never be able to live an independent life again." What do we do now?

Admatha Dementia Care was our answer. We were plunged into the decision of looking for a home for him, when it was not even on the cards a week ago. As soon as we walked into Admatha, we unanimously said, "This is the place for Dad!"

The welcome we received from the very first meeting was warm, informative, clear and friendly as we grappled with this new life in our state of shock.

The next question was how to transfer a very confused and agitated man from hospital to Admatha? This was overcome immediately by the caring and thoughtful staff at Admatha. They made it so easy. In the months following there have been many ups and downs as our whole family has had to come to terms with our new lives and the Admatha staff have been there all the way. The "Best Friends Approach to Care" really works! The empathy, communication and incredible amount of loving patience shown to us and especially to our Dad/Husband never falters.

Thank you Admatha, you are keeping all of your promises. Thank you very much.

Joyce Bailey and family




August 1st 2017

Hi everyone,

I was so impressed with the extra level of care, empathy and understanding your staff showed both Dad and myself last week. I can't thank you enough for helping Dad, Mum, their children and grandchildren throughout this journey. It has not always been easy, but you somehow managed to get us all through it.

Mum and I chose Admatha for Dad because we enjoyed the relaxed atmosphere and saw the caring, patient attitude towards the residents.

When Dad moved to the Lodge, your wonderful team were able to provide even more one on one time for Dad. I'm pretty sure Dad really felt Admatha was his home and was happy there. I will never forget how comfortable he looked tucked up in his PJs in bed, just like a little boy all worn out from a big day!

So a big thank you from all of us, to every single one of you, for caring for Dad.

Marg Hudson




April 21st 2017

Kia ora ano,
My mother, daughters and I wanted to ensure the excellent service and care you have given and continue to give our father/husband/grandfather is recognised.
Dad became seriously unwell this week and an ambulance was called. The phone call from your staff member to alert us to this was professional, caring and kind.
The hospital staff advised us that there was a high chance that Dad wouldn't make it through the night, but somehow he miraculously pulled through.
I rang Admatha to see if I could arrange to get Dad's teeth which were left at the home. I had expected to arrange to get someone to collect them, but instead was delighted when Maria, the Clinical Manager, turned up with them at the hospital. Dad was being quite difficult at this stage and both the hospital staff and I watched in amazement as Maria calmed Dad down, managed to get him seated and took the time to encourage him to put his teeth in.
He became more difficult and frustrated as the day continued and the hospital staff wanted to move him to another ward. I knew this wouldn't be a good idea and asked Maria and Debra if there was any chance they would take him back. They never hesitated, and the minute we dropped him back to Admatha, we knew we had made the right decision. He relaxed and settled right back in.
Admatha has become his home. He is happy there. The staff are incredibly patient and caring. I love hearing the way they talk to my father and how they get him to smile and laugh.
Although Mum struggles with the fact that she has become unable to care for him at home, she is grateful for the loving care he receives at Admatha.
As a family we are very grateful to the amazing team at Admatha.
Thank you.

A. Dahl




August 29th 2016:

Hi Deb, Maria and team. This first message is more of a testimonial should you want to use it:
If anyone is looking for a place for their loved one with dementia to live, then this is it. My Mum was in another establishment and I then moved her to Admatha, first the home and then the hospital. From the beginning it was a huge relief to know that she was well looked after and loved as an individual - that's pretty special. And at the same time, the staff cared about how I was coping. I cannot speak highly enough of the care that Mum received. The layout of both feels like home with a kitchen, tables, lounge areas and gardens. And the staff are always there working, updating records, feeding, talking, touching and laughing. My Mum really sparked up with the attention she received and when she was dying, staff popped in to her room just to say hi and cried with me when she passed away. Thank you Admatha.

S. Chappell




I must tell you about Wilfred's time in Admatha.
At first he was a bit quiet probably because he was homesick and a little bewildered in his new surroundings.
Soon, however, he felt the warmth and special care that Admatha gives. In fact I would go so far as to say that the care for each and every resident is exceptional. That I saw as a visitor. Wilfred was a loving caring man himself and I am not surprised that he soon won the hearts of the young carers at Admatha. Even as he became very ill on his last days he still managed a smile for them as they tenderly cared for him, and he would mean it.
You have a wonderful staff there, every one of them.
God bless you all.

Betty Dodge
07/09/2012




Placing my father into care was the hardest decision of my life. He had been diagnosed with dementia five months earlier and I was told to look around, find a home that I liked and put his name down. With two cousins, I started looking at dementia rest homes not too far from home. Of the places we viewed Avonlea was by far the nicest. Even the guided tour was the friendliest and most helpful. I didn't know what to look for in a rest home but fortunately my two cousins are a nurse and a diversional therapist respectively.
I held off as long as I could putting dad into care. When I eventually couldn't put it off any longer there were no vacancies at Avonlea so he went to Admatha. The staff there saw that I was having a hard time with my decision, so as well as taking great care of dad they gave me great support and friendship too.
I felt a lot of guilt over placing dad into care but I have learned since then that this is quite normal for families. I believed I had failed him, but I could no longer manage at home. The quality of the care and the helpfulness, courtesy and friendliness of the staff made the transition easier for both dad and I. The way they talked with dad you would think they had been good friends for years. A few weeks later dad transferred to Avonlea where the service, staff and atmosphere were as great as Admatha.
Fourteen months later, due to declining physical health dad was reassessed and reqired dementia hospital level care. I was lucky enough to be able to get him into Admatha Lodge, where the high level of care continues. I really like the small home system as it has made it easier for dad to cope with the changes in his life. The cosy environment makes visiting much more pleasant too.
I am included or notified about any decisions regarding dad's care and every time I visit him I get an update on his day, and health in general.
Dad often enjoys the regular entertainment, and with some coaxing from the diversional therapists will sometimes participate in activities.
The policies and the people have made this whole experience a lot easier and more pleasant than I could ever have anticipated. It is also a great comfort to know that dad is safe and well cared for by really special people.

Michael Ferguson October 2010


My husband has been a resident of Admatha for over two years and we have always been very pleased to be associated with Admatha where everyone is treated as a loved family member.
The individual care and attention given by the carers never fails to delight us, and contributes to the happiness and family feeling which is found at Admatha.
All the carers are never too busy to listen to individual needs, and this makes everyone feel as if they are very precious. Also, visitors are most welcome to stay at any time, and they know residents and their visitors by first name.
Admatha is a happy place to visit at any time of any day".
Avery Family

"We would like to recognise the wonderful care and attention given to our sister, Sally, since she came to live at Admatha in February 2007.
Sally's dementia has deteriorated over the last couple of years and, having had an intellectual disability all her life, her comprehension of what was happening to her was quite beyond her. Your staff at Admatha have taken Sally under their wing with total love, care and understanding and the professional way you, the management, and your staff have performed. We also get enjoyment from the hospitality of the staff and their recognition of us. There always seems to be time to make a cup of tea no matter how busy they are.
Admatha's philosophy and structure have impressed us to a degree that we have recommended you to the community that Sally was living at. Our recommendation is that they formally adopt Admatha as their primary Care destination for the other folk who are approaching needing Dementia Care.
We would like to thank you and the staff for your dedication and care of Sally".
John and Linda Tucker

CHRISTMAS 2011
THANK YOU ADMATHA
CONTINUITY, CONSISTENCY, CARING,
KINDNESS, THOUGHTFULNESS, LOVE
EARTHQUAKE PROOF QUALITIES.
THANK YOU ADMATHA FOR PROVIDING THE PRECIOUS
NECESSITIES OF LIFE
THROUGH A CHALLENGING AND DIFFICULT YEAR.
THE EXPERTISE AND SPECIAL CARE YOU PROVIDE IS
BEYOND THE PEOPLE AND FAMILIES THAT YOU CARE FOR.

THIS CHRISTMAS I HOPE THAT EACH ONE OF YOU RECEIVE
TENFOLD
THE LOVE AND CARE YOU HAVE GIVEN TO OTHERS.
WE COULD NOT HAVE QUALITY OF LIFE WITHOUT YOU ALL.
DURING A VISIT TO MUM LAST WEEK I WATCHED KIM MAKING CHOCOLATES
FOR THE CHRISTMAS PARTY.
MUM AND SOME OTHER RESIDENTS WERE SITTING WATCHING AND SAMPLING THE CHOCOLATES AS KIM TOOK THEM OUT OF
THE CHRISTMAS MOULDS.
I HAD BEEN FEELING EMOTIONAL AT THE PROSPECT OF
CHRISTMAS DAY AND HOW IMPRACTICAL IT WOULD BE TO
ATTEMPT TO TAKE MUM HOME.
SEEING HER SITTING HAPPILY ENJOYING THE CHOCOLATE
IN THE FRIENDLY ATMOSPHERE OF THE KITCHEN
SURROUNDED BY PEOPLE WHO CARE
I REALISED SHE WAS
"HOME"
THANK YOU ALL
HAPPY CHRISTMAS
LOVE
MARY ROBERTS
Updated: 11 Mar 2022
Personnel
Personnel
Type
Hours Per Week
Status
Details
Registered Nurse
Yes
"At Admatha we offer 24 hour registered nursing". Please see our 'Lodge Hospital' page for further details on our RN team.
Enrolled Nurse
Yes
Healthcare Assistants/Caregivers
Yes
Physiotherapist
Yes
Our Physiotherapist visits weekly and assesses every resident regularly.
Diversional Therapist
Yes
Our diversional therapists know each resident very well and know what works for each person creating meaningful activities to support creativity, socialisation, stimulation and fun as well as assisting residents in the daily running of their home.
Hairdresser
Yes
We have a hairdresser who visits weekly. She does perms, sets, cuts and blow waves.
Podiatrist
Yes
Dietitian
Yes
As required
Accredited Visitors
Yes
Chaplain/Spiritual Advisor
Yes
Fortnightly services - interdenominational
Other Personnel
Yes
A family support group for family members is held each month. This is run by an independent facilitator for people to share their experience of having a loved one in care Simon Hamley is our Education Coordinator.
Updated: 11 Mar 2022
Specialities or Areas of Expertise
Specialities or Areas of Expertise
Specialities or Areas of Expertise
Status
Details
Wound Care
Yes
Our registered nurses care for wounds and refer for specialist advice as necessary.
Diabetic Care
Yes
Our registered nurses provide guidance in the care of people with diabetes. We have regular inservice education on diabetes.
Continence Advice
Yes
Each person is assessed for continence needs. Our registered nurses have experience in continence matters.
Stomal Therapy
Yes
Our registered nurses give instruction with stomal care.
Infection Control
Yes
We have an infection control team. We work with an advisor for special assistance.
Psychiatric Care
Yes
Support available
Clinical Management
Yes
Rona Mendoza is our Clinical Manager.
Other Specialties
Yes
Updated: 12 Jul 2022
Respite, Carer Support or other Short Stay
Respite, Carer Support or other Short Stay
Respite, Carer Support or other Short Stay
Status
Details
Respite
Yes
We offer a respite care service, meaning families can book respite care with us in advance provided we have a room available. Please call Debra on (03) 385 1286 or 027 349 4375 for any further information. We would love to meet with you.
Subsidised
Yes
Private Paying
Yes
Booking can be made in advance
Yes
Updated: 11 Mar 2022
Features
Features
Feature
Status
Details
May Bring Own Furniture
Yes
Encouraged to bring familiar items - things that make each resident feel at home.
Single Rooms
Yes
Our rooms have a toilet ensuite.
Shared Rooms
Yes
We are able to care for couples in the same room if required.
Ensuite
Yes
Alcohol Permitted
Yes
In discussion with registered nurse.
Negotiate To Bring Own Pet
Yes
Discuss with Manager
Phone Access In Own Room
Yes
Cordless phone available.
Resident can adjust heating in own room
No
Underfloor heating and air conditioning maintain a comfortable temperature throughout the home.
Cater for under 65 yrs with Disability
Yes
Lounges/seating areas
Yes
Seating for residents and visitors. Private seating areas throughout the home. Overlooks our beautifully landscaped gardens.
Outings
Yes
Weekly in Van.
Whanau Room
No
However there are private areas throughout the rest home for visitors.
Maori Kaupapa
No
Contact with Rehua Marae
Residents Committee
Yes
Our residents meet monthly. They give us ideas and feedback.
Family Committee
Yes
Family meetings and family support group held each month. An opportunity for family to share their joys and struggles with other people who know and understand what it is like having a loved one in care.
Newsletter
Yes
Four times per year.
Policy for management of challenging behaviour
Yes
We work to minimise people's symptoms of dementia in a creative and loving way.
Confused Residents
Yes
Smoking Permitted
Yes
Smoking outside/supervised.
Semi-Secure
No
We are fully secure.
Updated: 11 Mar 2022
Special Features
Special Features
Beautiful landscaped gardens in an 'Old English' setting. Elegant blend of old and new with careful attention to maintaining a home like environment.
We are committed to quality, individualised care. Our home is our residents home. We care for them with the respect, love and care that they all deserve and that you are relying on.
Updated: 11 Mar 2022
Interests & Activities
Interests & Activities
Links with Alzheimer's Society for staff information, family support and education, beautiful garden with lovely display of trees and roses, Diversional Therapy programme ( art, cards, cooking craft, dance and movement therapy, exercises, gardening, indoor and outdoor games, group activity,individual activity to name but a few),Church services (fortnightly), live entertainment twice monthly (vocalists, musicians), happy hour every Friday, van outings weekly, library books collected by diversional therapists, massage for relaxation and therapy provided by caregivers and diversional therapists, videos regularly, music (records, tapes, CD's) played everyday, daily newspaper reading, quizzes daily, shopping occasionally, large group outings monthly, water therapy, animal farm visits, creative cooking group, a 'men's' shed.
Updated: 14 Jan 2014
Additional Information
Additional Information
Topic
Details
What's included in your fees and what's not
Fees do not include hairdressing or podiatry Please feel free to ask the Operations Manager for a copy of the admission agreement which outlines inclusions.
Staffing qualifications and details
A team of part and full time diversional therapists, two registered nurses, and one enrolled nurse. 24 hour Registered Nursing coverage. Four rostered staff working in the morning. Five rostered staff in the afternoon.
Details about meals
Home cooked - Dietitian assessed and approved. Specialist diets catered for. We have our main meal in the evening as we find that this helps our residents to settle into a good sleep at night.
Associated Complexes
Admatha is a part of Dementia Care NZ with nine specialist care facilities across New Zealand. Please see our website for more detail www.dementiacarenz.co.nz
Updated: 18 Jul 2017
Languages Spoken
Languages Spoken
Language
Status
Details
Chinese
Yes
English
Yes
Fijian Indian
Yes
Filipino
Yes
Interpreter
Yes
Negotiable
Korean
Yes
Updated: 14 Jan 2014
Religious/Spiritual Affiliations
Religious/Spiritual Affiliations
Religious/Spiritual Affiliations
Status
Details
Anglican
Yes
Baptist
Yes
Brethren
Yes
Christian
Yes
Denominations/Faiths represented
Yes
Inter denominational
Yes
Jehovah Witness
Yes
Methodist
Yes
Non denominational
Yes
Presbyterian
Yes
Roman Catholic
Yes
Salvation Army
Yes
Seventh Day Adventist
Yes
Updated: 14 Jan 2014
Distances
Distances
Location
Distance
Details
Public Transport
0.50 Km
Orbiter and Red Bus
Shops
0.50 Km
Mall
0.50 Km
The Palms
Parks
Petrie Park five minute walk on Petrie Street.
Library
0.50 Km
The Palms
Updated: 14 Jan 2014
Credentials & Membership
What's New
What's New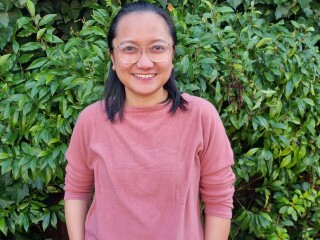 July 2022 - Introducing Rona Mendoza, Clinical Manager.
We are delighted to formally announce the appointment of Rona Mendoza to the key role of Clinical Manager here at Admatha Dementia Care.
Rona began her Registered Nursing career in the Philippines, where she worked in medical, surgical, gynaecological and paediatric fields, as well as a school nurse for students between 3 and 12 years old.
Moving to New Zealand, Rona worked as a caregiver in a retirement village, gaining valuable aged care and dementia knowledge while developing her NZ work experience and leadership skills. On completing her CAPS and gaining her NZ nursing registration, she worked as a casual RN in Auckland before transitioning to a RN position with Admatha in Christchurch.
Rona's sound clinical skills, calm and patient manner, and ability to handle pressure shine through in her interactions with residents, family members and colleagues. A people person above all else, she leads by example and is passionately committed to her personal and professional development in aged care nursing.
We all join in extending our congratulations to Rona as she moves into her new role, and wish her every success.
Andrew and Jim
January 2022
INTRODUCING CLEO CHISAKA, OUR NEW CLINICAL MANAGER
We are delighted to welcome Cleo Chisaka as our new Clinical Manager here at Admatha Dementia Care. Cleo started his role in early January and has already become an integral part of our Admatha family.
Cleo is originally from Zimbabwe and came to New Zealand in 2004. He has been a Registered Nurse for 27 years and has vast experience in acute nursing and aged care nursing, with a special passion for dementia care.
Before joining our team at Admatha Cleo was working for Golden Healthcare Group in a senior clinical leadership role. His personal mantra is Together we can!, and this inspires and energises him to work towards the best possible outcomes for residents, families and staff.
We join in congratulating Cleo as he takes on this key role in leading the team to provide excellence of care and loving support to our residents and their families here at Admatha Dementia Care.
March 21 2020
IMPORTANT NOTICE REGARDING COVID-19 AND VISITATION.
We have decided to temporarily close our home over the weekend to visitors as we work towards implementing the latest advice from the Ministry of Health as of 21st March 2020. We are reviewing our processes to ensure they meet the new recommendations from the Ministry. We will advise you of the new process for visiting our home on Monday, 23rd March 2020.
We acknowledge the importance of visits for our residents and their loved ones. Closing our doors is not a step we take lightly. However, preventing the spread of COVID-19 has to take priority.
Andrew Sheard
Director
March 2018:
Easter is a special celebration for us here in our home. We love to enjoy loving time together and share memories evoked by the scent of fresh hot cross buns and the feeling of anticipation as we unwrap the first Easter egg.
We wish you all a safe and happy Easter with those you love.
As always, we welcome your visits and remind you that our visiting times are the same throughout the holidays.
February 2018:
We have all come long way since the devastation of the February 2011 Earthquakes. This was a time when in the face of great personal loss and hardship, we embraced suffering and found strength and resilience. The sense of community has endured and strengthened as we continue to move forward together.
December 2017:
To our dear friends
It's the end of 2017, a time of reflection on the past year. As always, there have been many moments of joy, laughter, peace and wonder: what we call 'magic moments'. We are full of gratitude and would like to say thank you to you all. Thank you for encouraging us by being part of this online community. Thank you to the people who visit our homes - it is always lovely to see you. Most of all a very big thank you to those of you who share your family membe
...
r or friend with us. It is a huge privilege to take care of the people who live here with us in their home. They are a wonderful inspiration to us and we love them dearly.
We would also like to say an enormous thank you to each and every member of our staff team. We appreciate you and value you so much. Thank you for everything you do.
We are grateful for the highs and lows, the challenges and opportunities this past year has brought. Thank you for being part of it.
November 2017:
Recently some of our staff at Admatha celebrated Diwali and gave a wonderful display of their beautiful traditional attire. They also brought in traditional Indian food for all of us to try. It is wonderful and so interesting living in a multicultural country such as New Zealand.
October 2017:
It is so important for all of us to keep up our interests and continue doing the things that bring us pleasure and happiness. It is wonderful to watch the skill our resident Vi brings to her beautiful floral creations, and the joy they bring to herself and others.
October:
Hi I am Abbey Catral. It is a privilege to be part of Admatha. As an immigrant nurse with a passion for caring for others, I am lucky to get to do what I love and at the same time learn a lot of different things that help me grow as a person and as a nurse.
September 2017:
Each year we love to go on a van trip to the Hadstock farm and pick daffodils. Recently we had a delightful outing filling our large buckets with daffodils which we then brought back home to be enjoyed by everyone to welcome in the spring.
We recently experienced a wonderful 'magic moment' with a resident at Admatha, who specifically asked for Merlin, saying: "Where's the dog? I want the dog!"
We went to where the resident was waiting, leaning on his walking frame watching the door expectantly. When he saw Merlin his face broke into a delighted smile. He spoke with Helen (Home Manager) about 'liking the puppy', and gestured for her to stroke Merlin, which she did while he looked on, nodding and smiling approvingly. (Though he has often interacted verbally with Merlin, he has never shown an interest in touching him.) We gave Merlin a treat while the gentleman watched with interest.
We were joined by another resident who encouraged Merlin to jump up and give him a kiss, which made the first gentleman roar with laughter.
A few days later the gentleman saw Merlin in the hallway, walked straight up to him and gave him a stroke.
It is so lovely to see how accepted, familiar and loved Merlin has become here at our home.
August 2017
We love to engage in a good game of cards at any time of the day at Admatha Home. People from both small homes get together to participate in the games, and there is often a small prize for the winner. Card games bring great laughter, fun and enjoyment for all of us. They also prompt much reminiscence, often along the lines of: 'No T.V. in our day, but a good game of cards around the fire!'
t's wonderful to see the joy Merlin, our 10 month old therapy puppy, brings residents at Admatha and Avonlea Dementia Care in Christchurch. This photo was taken in March 2017.
His presence is met with recognition and a sense of warmth and familiarity. Smiles follow him everywhere. His early morning newspaper deliveries, especially, are a source o...f amusement and delight. People share memories of their own beloved pets from long ago, as well as asking questions about Merlin and commenting on his unusual wavy coat and big puppy paws.
We love creating a home for our residents which is relaxed, homely and welcoming. Merlin is 'our dog', and an important and much loved member of our Admatha family.
We invite you to stay in touch with us by Liking our Facebook page. To find out more about our philosophy of care, please visit www.dementiacarenz.co.nz
Exciting new 'Dementia Therapy Puppy' project at Admatha Dementia Care - August 2016:
At Admatha Dementia Care in Christchurch we have an exciting new project: training a dementia therapy dog from puppy-hood.
Our ten-week-old Labrador puppy, named Merlin, is the nephew of Mahe, the assistance dog whose story captured the hearts of people wordwide earlier this year:
http://www.stuff.co.nz/…/Mahe-the-autism-assistant-dog-neve…
...
Merlin will become part of our Admatha family of residents, family members and staff, providing diversion, delight and reduction of stress, in keeping with our homely, person-centered philosophy of care.
Merlin has his own Facebook page (below) which anyone interested in following the progress of the project is warmly invited to follow.
See More
Refurbishments at Admatha - June 27th 2016
Admatha has recently had a bit of a facelift. We have beautiful new carpet and elegant, purpose designed and comfortable new furniture. Our home is looking beautiful.
Winter garden walks at Admatha Home - June 2016

We love our homely and established vi
lla garden at Admatha. Recently residents have enjoyed rugging up and strolling amongst the established trees and looking at the last of the autumn leaves. How peaceful it is to stroll in the garden.
New Website for Dementia Care NZ:
Recently at Admatha Lodge and Home
we had a very special visit from the mobile farm yard! Our residents were enthralled by the lovely gentle animals including chickens, baby rabbits, ducklings, a little dog, a guinea pig and a donkey! 06/12.
AGE CONCERN POSITIVE AGEING EXPO SEPTEMBER 30TH:
We are very excited to be holding an information stall at the Age Concern, positive Ageing expo on September 30th. It is always such a superb event with many interesting contributors. It is also a wonderful way to connect with our community. we hope to see you there!
(Photograph: Avonlea Operations Manager Kirsty Hart and Admatha Operations Manager Sue Denton at the recent Age Concern Expo)
RAKING LEAVES - JUNE 2013:
Winter
is nearly here! With the beautiful coloured leaves swishing off our huge tree's, blowing gracefully past our windows and settling on the grounds. A number of our gentlemen have greatly enjoyed raking them all up recently. The seasons bring such a variety of things for us to do in the garden.
AUTUMN COMES TO ADMATHA -
April 2013:
Autumn is upon us and so is lots of 'end of summer fruit' that has over burdened my garden... At Admatha our residents have filled the home with the sweet and spicey aroma of fresh home made chutney.........'Pear and green tomato' We had so much fun making this together and sharing our produce, as well as keeping a supply for our kitchenette. Donya, on behalf of the Diversional Therapy team at Admatha.
CREATIVE COOKING CLUB
February 2013:
Our people at Dementia Care NZ simply love their 'creative cooking club' creations! At every home, people have the opportunity to take part in cooking groups. Some people love to help with the making, some with the directing, some with the reminiscing, the observing and the eating! But every one.........Has a superb time.
ROAD WORKS ON AVERIL STREET 18/02/2013
We wish to advise visitors to Admatha Home and Hospital that there are significant road works happening on our street. Even though the sign may say no access, you can drive up the clear part of the road and use our car parks.
The weather has been so delightfully warm in Christchurch! We have been enjoying picnics and sing-alongs in the shade of our lovely old trees at Admatha.
At a number of our homes we have been holding a weekly 'coffee club'. This is a time for socialisation, reminiscing, sharing time with family and friends, creating magic moments.
Out come the lovely table cloths, the special china, the flowers on the tables not to mention the lovely home baked goodies and coffee! If you would like to join your friend or loved one for coffee club, please conta
...
ct the operations manager of the facility for details. We would love to share this time with you.
Donya Nee, on behalf of the Diversional Therapy Team from Dementia Care NZ.
Our residents just love the joy of food in our 'Creative Cooking Club'. Here is one of our lovely Admatha Diversional Therapists Sharma with a recent chocolate and strawberry creation. Fun AND tasty. A great afternoon!
Our beautiful garden is in full bloom at Admatha with rhodo's, yellow iris, roses in pink, white, yellow and red, leucadendrons, lavender, lilies, fox gloves, the beckoning shade of the well established trees and so much more.
We have been greatly enjoying garden walks, picking flowers for arrangements and feeding the birds this week.
What a beautiful time of year!
(The Diversional Therapy team at Admatha).
Dementia Care NZ's Christchurch facilities Admatha and Avonlea were represented at last Monday's Age Concern 'Positive Aging Expo' by Lauren Thompson and Donya Nee. 'We had a fantastic time chatting with people in our community sharing visi
...
ting tips and the benefits of respite care. It was wonderful to see so many people really enjoying themselves, socialising and finding out what is available to them'. What a community!
Photograph - from left, Donya Nee and Lauren Thompson. Age concerns positive aging expo October 2012.
Exercise Programme
After many months of discussion and planning, a four week training course for staff took place in March at Admatha and Avonlea in Christchurch on how to introduce regular exercise for residents into our dementia facilities.
The course was facilitated by Janet Earle, Registered Physiotherapist, who knows our residents and staff well from her weekly visits to both Admatha and Avonlea. Janet has vast experience in the area of falls prevention, and has worked extensively with the elderly and with people who have dementia.
This opportunity was met with great enthusiasm by the staff of both Christchurch facilities, with a pleasing attendance of Caregivers, Registered Nurses and Diversional Therapy trainees at the sessions.
The training covered a range of topics over the four weeks, from the benefits of exercise to the elderly, through which specific exercises to include and which to avoid. Janet summarised the main benefits to our residents as being the "Four F's"… Fitness, Freedom, Falls Prevention, and Fun!
It was envisaged that at the completion of the course, staff would have a greater understanding of exercise benefits, together with the tools to assist with incorporating increased exercise and movement into our residents' daily routine. It is envisaged that exercise will take place throughout the day. However, there will be a distinct focus on movement to music during the mid to late afternoon, when many of our residents struggle with 'sundowning' symptoms of dementia.
We are now getting ready to introduce this programme to people in facilities in other areas.
We plan to review the success of the training and exercise programme later in the year. Additionally, we intend to carry out some comparative evidence-based research to establish whether there have been any tangible benefits to our residents, such as a decrease in falls, as a result of the programme.
Trainee Diversional Therapist Kim Prasad engages residents in an lively exercise session
ADMATHA HOME AND HOSPITAL AUDIT SUCCESS.
We extend our congratulations to our team at Admatha Dementia Care in Christchurch who on the 21st and 22nd of June 2012 underwent a full certification audit for the MOH.
On Friday we received notification that Admatha has been awarded 4 years certification. Very few aged care facilities in NZ attain this level of certification which reflects the highest quality standard.
Well done to Sue, Ruth and the team.
We are delighted that Admatha has joined Avonlea Rest Home in Christchurch with 4 year certification.
WE DO THINGS DIFFERENTLY ... AND IT WORKS.
OUR POINTS OF DIFFERENCE:
Our Vision and Values – Are the cornerstone of all we do. We select our staff based upon our vision and values. This means we attract the right people and have a great staff retention. Staff have a high level of job satisfaction and many opportunities to grow which naturally results in best performance and positively impacts upon our residents' well being.
Open home – Our families are always welcome. You have an open invitation to share mealtimes with your loved one, at no charge. We want you to have as much special time with your loved one as possible. This benefits us all.
Small Homes – Small homes mean that the environment feels more normalised, and residents orientate to their environment more easily.. There is a family feel. We get to know our residents very well. There are fewer faces to get to know. There is a higher staff ratio than in many larger facilities.
Open Plan kitchens - Purpose designed kitchens mean that residents and their families have full, assisted and safe access to familiar homely activities. People can help rinse the dishes, make a cup of tea, wipe down the bench, and be part of the running of their home. Baking and cooking activities occur regularly.
Bedrooms – Are warm and cosy. There is under-floor heating as well as wall unit heating. People are encouraged to bring special things from home, to make their room feel familiar and homely. We provide all of the necessities.
Family Support – Our families have the opportunity to meet monthly with an independent facilitator to share thoughts, feelings and concerns about having a loved one in care. At Levin and Waikanae support is available over the phone.
Special Programmes for Families - We enjoy having two special courses for our families: 'Orientation For Families' and 'Sharing the Journey'. These courses help people to settle into having a loved one in care, and provide information about dementia and improving the quality of the journey with your loved one in care.
Our team: Our staff team are hand-picked and are with us because they love working with people who have dementia. They are given many opportunities to grow within the organisation and are supported to be their very best. We provide them with free medical attention and staff support from 'Work Place Support' . They are also given much in the way of Education. We are great believers in the power of education and support for growth.
Education - We have an Education Coordinator who coordinates , supports, motivates and encourages staff to grow and develop as much as possible.
Best Friends Approach to Dementia Care training – All our staff attend this training as a part of their comprehensive 'orientation' program. It is based on the ground-breaking work of Virginia Bell and David Troxell, and originated in the U.S.A. The main focus is on developing empathy, communication and an understanding of our residents' needs.
Non Violent Crisis Intervention – This is an internationally recognised qualification that we encourage all staff members to participate in. This course supports what is learnt in the Best Friends Approach to Care training. Intercultural training – Our staff team have the opportunity to be a part of comprehensive training around intercultural awareness. This training is designed to help staff understand the varying cultural needs of our residents, as well as fellow staff members.
Occupational Therapy – We have a very experienced Occupational Therapist who leads our team of Diversional Therapists. She is also available for consulting regarding residents' specific needs and/or behaviours of concern.
Physiotherapist – Our Physiotherapist visits our home regularly.
Dietician – Our dietician is on site on a regular basis and is available for advice at anytime.
Community Care – We have a proactive approach to education for the wider community around dementia care.
We speak at both national and international conferences on the subject of excellence in person-centred care. Community education, removing the stigma from dementia and increasing the quality of life for people who have dementia are passions we love to share with others.
We hold the only contract in Canterbury for dedicated respite care.
Audit certification – We are very proud of our Audit results. All audit results may be obtained from our website www.dementiacarenz.co.nz
At Avonlea and Admatha, we have four years certification.
VISITING TIPS FOR THE CHRISTMAS PERIOD !
Please see our article about 'Visiting a person with dementia over the Christmas period' as published on the Alzheimers New Zealand site.
We hope that this article is helpful for you and your families.
Simply click on the link at the very bottom of this page.
RESPITE CARE
We wish to remind people that we are still running a dedicated respite care room at both Admatha and Avonlea Dementia Rest Home care facilities. This means families/carers can book respite care in advance.
Carers can prepare for time out in advance, knowing that their loved one has a booked room in a well established home that specializes in care of people who have dementia.
It is very important that carers have time to relax and take care of themselves. Taking a break can help with this.
We believe that most people want to stay at home as long as possible. We work hard to make sure people who come for respite care go home as good as or better than when they came into our care.
At both Admatha and Avonlea, we create a loving and homely atmosphere where each person is supported to experience each moment richly. This is our vision. We achieve this vision through our values: By honouring the uniqueness of each person, the immense value of each person, openness, honesty and integrity.
Please feel free to contact me anytime to enquire about our homes and about our respite care service. I would love to meet with you and I hope that I will be able to assist you.
I look foward to meeting with you.
Donya Nee
Vision Development Co-ordinator
Admatha Dementia Care Rest Home & Hospital
Avonlea Dementia Care Rest Home
(03) 385 1286
027 277 6882
We:
*accept you as you are
*really listen to you
*Love to hear you laugh
*forgive your mistakes
*have fun together
http://www.alzheimers.org.nz/tips-for-visiting-someone-with-dementia-over-the-holiday-period/
Admatha and Avonlea will be present at the up coming Age Concern's Seniors Expo in Christchurch and available to discus dementia care, visiting tips and techniques as well as the benefits of respite care. We are looking forward to being a part of such a fantastic event.
Updated: 12 Jul 2022
The Ministry of Health conducts regular audits of Residential Care Facilities. They can be found HERE.
10