Day & social programmes
Enliven Day Programme - Hastings, Taradale, Waipawa,
At a glance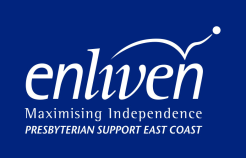 Name

Enliven Day Programme - Hastings, Taradale, Waipawa,

Category

Day & social programmes

Address

87 Te Mata Road
Havelock North
Havelock North 4130

Postal Address

PO Box 8119
Havelock North 4157

Region

Hawke's Bay

Phone

Fax

Email

Web

Facebook
Other services
Enliven enables older people and people with disability to live independently at home by providing home support and day programmes.

Enliven Restorative Home Support provides clients with a team of experts that support clients in their journey to independence. Enliven offers day programmes at our dedicated Enliven Centre in Pakowhai Road in a nurturing environment that encourages physical, mental and social wellbeing. Day programmes are also available in Gisborne, Wairoa and Central Hawke's Bay.

Service Description
Service Description
The Enliven Centre on Pakowhai Road provides day programmes to over 100 people each week, and is a beautiful environment for people to socialise, share a meal, and participate in a range of programmes ranging from Tai Chi and cooking classes, to fitness instruction and art. There is even a gym set-up for those who really take their fitness seriously! Clients are encouraged to challenge themselves, and they have achieved some outstanding results.

Physical activities, such as the Stand Tall Balance programme, help to prevent accidents and serious injuries caused by falls. Senior Chef educates people as to their changing nutritional needs, and helps them to adapt their diets accordingly.

All activities have a social component, and this is the highlight for many clients, especially those who may otherwise find themselves socially isolated at home.

Enliven Centre day programmes offer:

A social meeting place and a chance to make new friends
A tasty, nutritious two-course lunch
Group outings
A range of interesting and fun activities
Flexible programmes to accommodate attendees' interests
Exercise, strength and balance classes
Beautiful, disability-friendly, indoor and outdoor spaces
Trained, friendly staff
Transportation is available and can be arranged at an additional cost. You may qualify for a free subsidy to attend. Please contact the Enliven Centre to find out more about days and times of the programmes on offer.
Updated: 30 Aug 2016
Companionship
Companionship
Companionship
Self Funded
Subsidised
After Hours
Day Programme (Non Dementia)
Yes
Yes
No
Updated: 10 Jun 2009
9546